Last Friday I sent you an offer, I don't send offers often. The next will be around Christmas. Here's a quick update and why you should act today, before time runs out.
There's 300 133 55 0 (SOLD OUT) FREE* DVDs from this offer left. I expect this to sell out soon, especially when you consider the weekend is when most people sign up.

For a measly $297 / quarter, here's just a few things you get with my service.
Bond Swing Trades (BST) is…
Designed to make money without being chained to your computer all day i.e. perfect for working professionals who don't have the time to day trade but still want to actively trade the market.

3-5 swing trade alerts per week, all entries and exits in real time by chat, text and email with a goal of $50,000 a year in profits
Bond Day Trades is… 
$497 / quarter

 complimentary with BST
Perfect for greedy, trigger happy traders who need profitable intraday ideas i.e. 5-7 momentum day trades per day in the biggest chat on Wall Street.

The goal is $500 profit per day which keeps the job away and be in all cash by end of trading day – everyday!
Bond Large Caps is… 
$197 / quarter

 complimentary with BST
TOP RATED INVESTMENTS utilizing the same swing trading concepts I've mastered and applying to longer term large caps stocks. 

Hold times will be a period of weeks (or even months) so it is PERFECT for less aggressive traders who need more flexibility with entry/exit points.
Combined that's $991 / quarter for the low, low price of just $297 / quarter plus the $497 12 hour instructional DVD absolutely FREE* – there's 8 days left on this offer or when the DVDs sell out, which will be soon.

I can think of a lot of things to spend $297 / quarter on but can't think of one thing that offers more bang for your buck and below I'll prove it.
I spent 10 years teaching in NYS public schools before leaving to teach on Wall Street. Before leaving to teach on Wall Street I was making an excellent living as a tenured teacher in NYS with full benefits and a pension working 184 days a year.
January 2011 I left to teach on Wall Street and didn't have 1 subscriber, no salary and no promise of success. All I had was a belief that my trading strategy works and that if I could teach it to others, my classroom would return and return it did.
I now run the biggest chat on Wall Street in less than 2 years and trust me, this does NOT happen with marketing, it happens because the trading strategies I teach work!
Keep in mind you do not need to be in chat to take advantage of my service. It's just one part of my classroom, the core service is designed for working professionals.
My framework is not only easy to understand but it's easy to execute. My clients range from high school kids whose parents sign them up with paper trading account to working professionals to investment firms.
The #1 thing I hear clients say… my 5-10% rinse and repeat strategy is reasonable. Basically they're saying I'm not flashy but realistic – something foreign to Wall Street.
Here's what "not flashy" looks like.
Keep in mind most swing trades are on average 4 day hold times, but when I get 7% or $3,000 in 1 hour I pay myself and teach clients to do the same.
Thursday night's watch list said, "JRCC – Watching the 20 Moving Average ($2.89) for a reversal and am a buyer on the next reversal candle over candle."
With the coal plays picking up steam, this is straight out of my video lesson #2. I'll let the clients quoted on this chart speak, illustrate and verify this is an effective and lucrative strategy.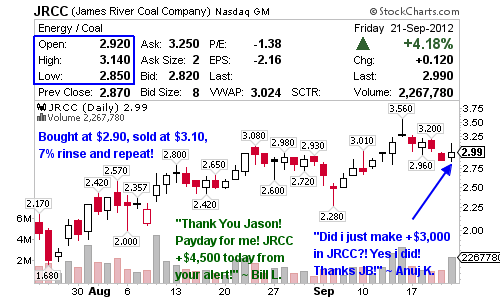 CLIENT PROFITS
"Did I just make $3,000 in JRCC?! Yes I did! Thanks JB!" ~ Anuj K.
"Boom, out JRCC $1,500 in 30 minutes. Thanks JB, Amesome!" ~ Mark A. 
"Thank You Jason! Payday for me! JRCC $4,500 for me today from your alert!" ~ Bill L.
"Out JRCC at $3.09, $1,948. Can't pass up +6.2%" ~ Jeff L.
"Just sold JRCC options, +91%, piggybacking JB's swings with options = money." ~ Nate B.
LIFE CHANGING
"I've traded all over the net. JBP is the best home hands down. Thank you Jason for running a tight ship." ~ JC M.
"Last Tue I had $1,100. Played 3 options trades since then (3 for 3), +$616. Now I have $1,716 +56% in 9 trading days. Thanks Luke! Excellent few days for this stay at home mom." ~ Pink I. 
"Jason thank you and Luke so much for what you do. All the help you give me in the market makes me one step closer to getting out of the coal mines." ~ Kelly T.
"This service is a life changer. Period. Thank You!" ~ Paper P.
"JB & Luke just wanted to thank you guys, since May my TOTAL account value is up 21.3%. Hands down best service, moderators, and chat room out there!" ~ C. R.
* Other than shipping and handling