LIMITED TIME OFFER FOR THE NEXT 300 133 55 0 (SOLD OUT) CLIENTS! 
THIS WILL SELL OUT.
TGIF my friend and good evening!
We tore it up this week and I'm prepared to make you a limited time offer. You know me, when it's sold out it's over, no exceptions. Read on if you'd like to sign up and save $497. While supplies last.
Since 8/1/12 I've sent exactly 20 swing trade alerts and made $20,949. I can teach you how I did this if you just give me a chance. But my service is so much more than just my swing trade alerts.
First, to my knowledge, I run the biggest premium trading chat on the Internet. But that's not all you get when signing up with me. 
You also get day trade alerts and option trade alerts. You get education through video lessons, workshops and webinars covering swing trading, day trading and option trading and much, much more.
For example… ZAGG was a recent swing trade alert of mine. I made $10,000 on it using the same swing trading framework I taught Ed and thousands of other clients.  
"In ZAGG at $7.48, out at $8.67 with 20k shares for +$23,705 thanks JB!" ~ Ed T
"I admire your patience on ZAGG – most traders would have bailed. Hopefully your steady influence kept many in the game as well. We rode it out for over a $350,000 profit.  Good advice on your part." ~ Jim S.
Another example… Luke is the head moderator and lead day trader. He'll not only teach you how to day trade, but he'll also teach you how to play basic call and put options as well. This from the chat alerts he sends…
9/12/12 [03:05 pm] Luke M (P2D): in AAPL Sept 22 $670 calls @ $6.15
9/13/12 [09:41 am] Luke M (P2D): out AAPL Sept 22 $670 calls @ $16.20 +$10.05 or a massive +163% this was a +$30,150 win here
"Luke out AAPL $670 call +$4,000 BIG THANKS!" ~ Jedi T.
"I normally only trade AAPL options, but with Luke's assistance, my total win today is $54,215. Can definitely make a lot with options, especially AAPL. Thanks again Luke and Jason." ~ Blackcat T.
And now that Luke has taught clients to play basic put and call options… many of them are placing calls on my swing trade alerts. For example…
"Just sold my GRPN Oct Calls for a 88% win! I've been with Jason since March and I have learned so much and believe in his service." ~ Gary F. 
"Sold JRCC options +91% piggybacking JB's swings with options = money!" ~ Nate B.
How about my swing trade alerts on JRCC, OWW, ZNGA and GRPN all this week?!
"I must brag for a quick moment: out of OWW +7%, out of GEVO plus +5% and out of my BAC calls +50%. My kids are going to start calling JB Uncle Jason!!!"~ Anthony R.
"I am out JRCC with 8.3%, OWW with 9.6% and GEVO with 10.4%… this is so great!" ~ Marjorie Z.
"Today deserves a shot of tequila! Learned so much here in this group. Thank you all!" ~ Wells M.
"Out JRCC for +$5,227 profit, thanks JB" ~ Luke A.
"OWW first trade with JB services up 7% or $2,100 thanks JB" ~ Byron R.
"Out GRPN + 8%, thanks JB" ~ Wendell J.
"ZAGG +$4,316 stocks and option calls cashed out total" ~ Brian P.
"+$3.400 in MERU, GEVO and PWER. Third day of trading. Week +$5,100 Tks JB and LUKE. Night all" ~ Javier de L. 
"Best week ever for me in options +$36,520 – big thanks Luke, Tina, JB and all contributors in chat." ~ Jedi T.
"This service is a life changer, period! Thanks!" ~ Paper P.
"JB and Luke just wanted to thank you guys, since May my TOTAL account value is up 21.3%. Hands down best service, moderators, and chat room out there!" ~ Climb R. 
SO HERE IS MY OFFER
I just finished recording a 12 hour DVD called The Basics of Swing Trading.
It's essentially 12 1 hour workshops teaching you everything you need to get started on Wall Street and join those winners above. Once you become a proficient swing trader we'll teach you day trading and options as a part of the service.
This 12 hour DVD, The Basics of Swing Trading goes on sale in October for $497.
Between now and October 1st or the next 300 clients through the door will receive the 12 hour DVD absolutely FREE* – so not only are you joining a great team, but you're getting my first and last 12 hour DVD which is set to retail at $497 for FREE*
I am sorry, but I can only do 300 because I'm ordering a few thousand DVD's in advance for my current premium clients and since they're not shipping until the middle of October, I have ordered 300 extra copies to give to the first 300 who sign up between now and October 1st.
This will sell out and I will provide a countdown. There are NO EXCEPTIONS. Once this is sold out I cannot give away any more FREE* copies, it'll go on sale for $497 for everyone, free or premium clients.
The quality of this DVD is top notch, professionally done and will help you be a better trader, find trades faster and know how / when to act.
Secure your copy now and join thousands of traders who are already on my winning team. It's truly a family at Jason Bond Picks; I believe you'll be shocked to see what I've built since leaving a ten year career in NYS public schools to teach on Wall Street.

Gary left & Mike right from my 2012 trading conference at the Borgata in Atlantic City.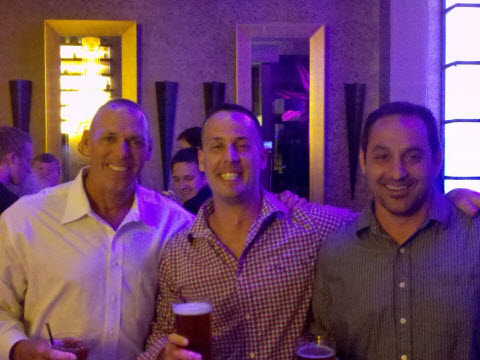 * Other than shipping and handling