Stocks got smoked yesterday as fears of the coronavirus pandemic spread around the world. Just this morning, Hong Kong leader Carrie Lam declared the highest level of emergency. We've already seen some cases in Europe, Japan, Australia, and even on our soil.
As traders, all we could do is pray for the best and healthcare professionals to keep this contained.
Right now, it seems as if this virus is spreading rapidly… and that's one of the major smoke signals I see in the market right now. However, as we all know, the world is intertwined and there are major consequences if the coronavirus continues to spread.
This will not only affect the health of citizens, but also the overall economy. You see, I don't think a whole lot of people will travel or shop… and that damages corporate earnings.
I've already started to see other warning signs in the market… and the only thing we could do is put our best foot forward and trade. Right now, I have my Smoke Signals trading system ready to go, because it takes advantage of down moves in the market.
So what warning signs am I seeing in the market?
With the world's second-largest economy plagued with this virus, the death toll rose to 41 and more than 1,300 have been infected worldwide. Of course, epidemics and pandemics have major market consequences and increase risk.
We've already seen some panic ensue traders and investors, as the S&P 500 dropped nearly 1% yesterday, while the Russell 2000 dropped 1.35% and  Nasdaq plummeted by 0.93%. That to me signals traders are finally getting out of the momentum mentality…
And finally realizing the market is overvalued.
With so many people long stocks… this virus alone could release the floodgate of sellers, and bears who have been itching to short stocks. If you know basic economics, it's really simple…
The supply should rise… and with so much fear in the markets, there may not be a whole lot of demand out there. So what happens when there's more supply than demand?
Prices plummet.
That's the first major smoke signal I see right now.
Another smoke signal I see right now is in the bond market.
Bonds Signaling A Potential Market Selloff
The 10-year Treasury Yield reached its lowest level since November… and this is another signal that stocks could potentially crash soon. 
What's the importance of the 10-year Treasury Yield?
Well, it influences the overall economy, and actually reflects how traders and investors think the market will trade. You see, bonds are considered safe investments, and prices and rates have an inverse relationship.
When there is a flight to safety, prices are bid up… and yields fall. That uncertainty signals market participants and major hedge funds may be rotating out of stocks and piling into Treasury securities to protect their portfolios.
If the coronavirus continues to spread… Treasury yields will get damaged and bonds will be bid up.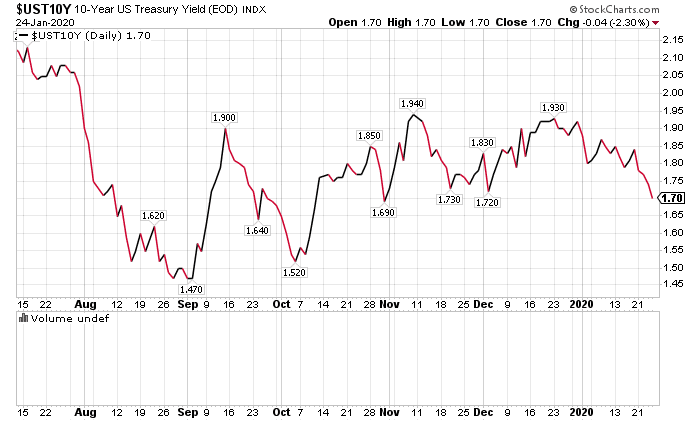 Since late December 2019, the 10-year yield has been getting destroyed… and if we see it fall further, I think we can see a major selloff. Just take a look at the action in July heading into August.
Treasury yields slipped… and do you remember what happened with stocks?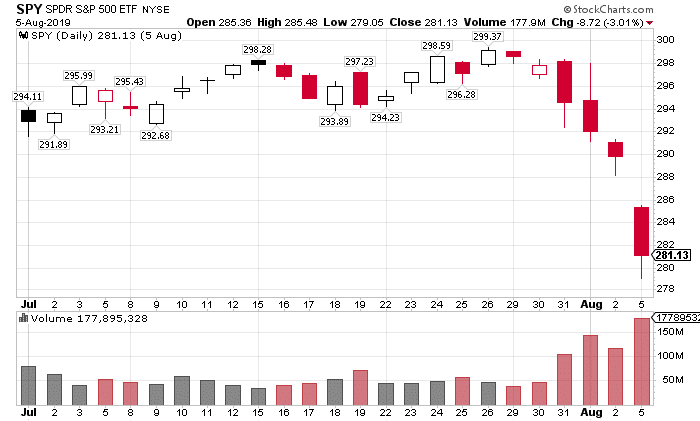 The S&P 500 dropped by more than 6% in just a matter of days… and we may see a similar "correction" very soon but of a larger magnitude.
We're already seeing some weakness in stocks… but I have a strategy that allows us to take advantage of the potential drops in stocks.
For example, the other day, I spotted a bearish trade in Alibaba (BABA). With the coronavirus spreading and the charts signaling a drop… this was a high-probability setup in my eyes. Here's what I sent out to my clients.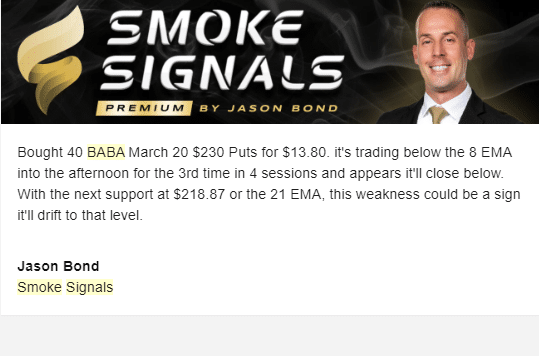 Now, check out the daily chart in BABA.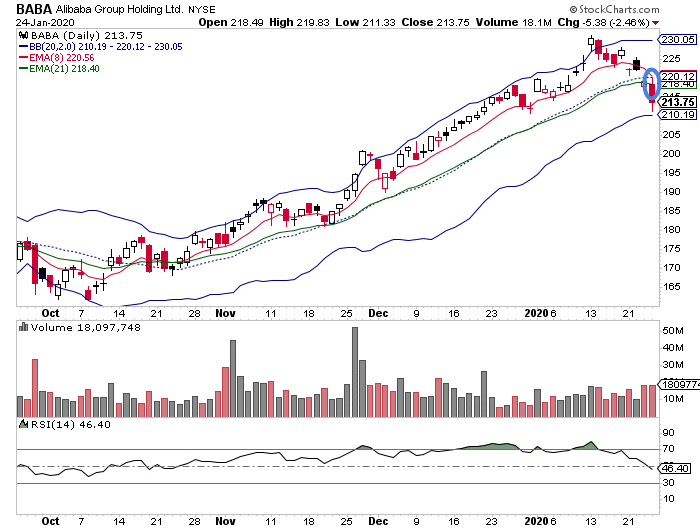 First, I noticed the stock break above the upper Bollinger Band, as BABA reached all-time highs. Thereafter, we saw a quick pullback. 
Now, once the stock traded below its 8-day exponential moving average (EMA), I knew I had to keep this on my radar because there were clear levels below. If you look at the blue encircled area, I was looking for BABA to not only close below the 8-EMA but potentially break below the 21-EMA.
As you can see from the chart above, that move happened!
The day after I got into those BABA puts… I locked in a massive winner to the tune of $12,000!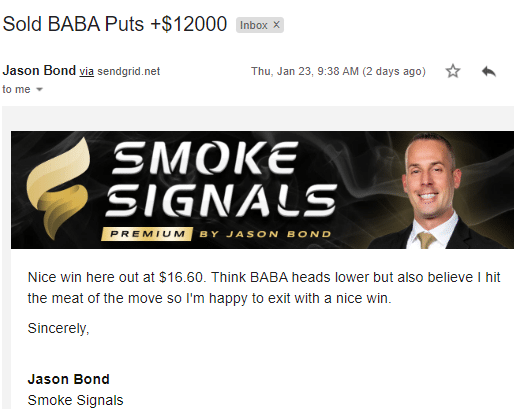 Sure, traders are panicking right now… but you don't have to, especially if you can get your hands on my Smoke Signals strategy. We could be waking up to a blood bath on Monday, but I'll be ready to take advantage of a potential market crash.