Well, it's going to be a little bit slow over the next few sessions as many traders take off for their summer vacations…
I expect the moves not to be as drastic and volatility to remain low.
Who really knows what's going to happen in this environment though, that's just what I've been noticing. That's why I've been more selective with my trades.*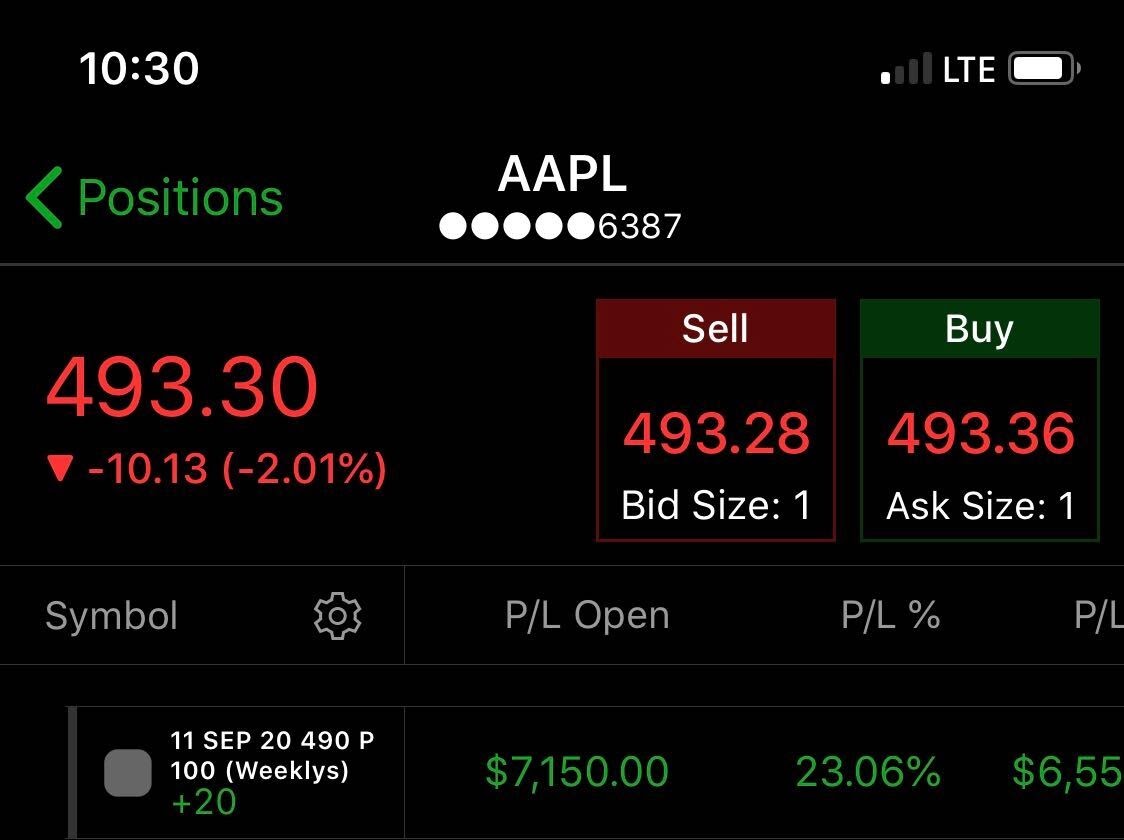 On Monday, I sent out my highest-conviction trade idea — it was a setup I noticed in Apple Inc (AAPL) and I believed it had the potential to deliver hefty gains. 
I want to reveal to you the process I used to uncover this trade idea, and how I made 20%+ off just a small move in AAPL.*
Here's what I sent out on Monday at 2:26 PM ET.
AAPL puts. Split is coming Friday, everyone just expects this thing to keep going up. Could be a sell the news type event I think. Of my trade ideas I think this one is pretty risky but I personally like it. 
I'm thinking expiration 3-4 weeks out. I'm personally okay with slightly OTM here if I'm 3-4 weeks out but as a general rule prefer to be ITM to prevent quick decay if it goes sideways or against me. 
September 11 $490 puts on AAPL is my trade today. Consider this your advance notice. ITM around $510 is a possibility for me, but I'm learning toward $490 or even more aggressive. 
You see, with so many new traders piled into the market, they were trying to catch the "split" news… and some thought they were going to get "free" shares of AAPL.
However, all that's happening is they're giving out additional shares after the closing bell on Aug. 28, and those shares would start trading at the new split-adjusted pierce on Aug. 31.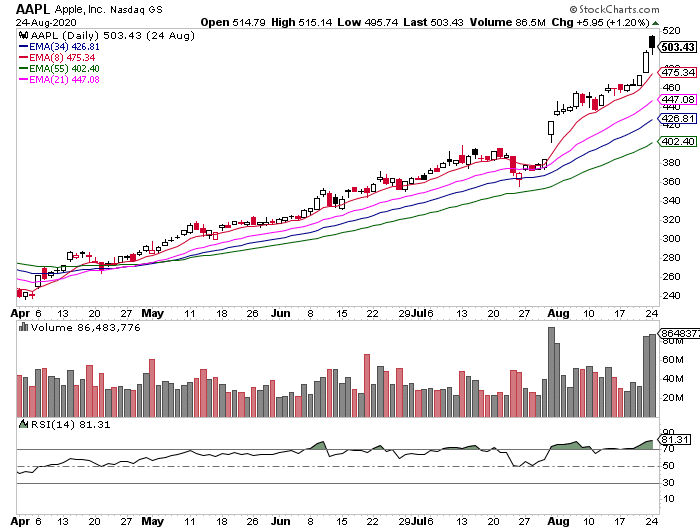 Apple has been on an absolute tear for pretty much the entire month of August thus far… with no real pullbacks along the way.
With momentum stocks, I know that isn't sustainable, which was why I had such a high conviction in the AAPL trade.
I mentioned how I would look to get aggressive in AAPL, and I did.
I bought AAPL $490 Sept. 11 puts for $15.50 apiece. With so many traders piled into AAPL, I figured the "sell the news" event might actually materialize.
I wasn't looking for a massive move in AAPL, just for it to pullback a few percentages.
The options provided me with leverage, so I didn't need a large move to generate some serious returns.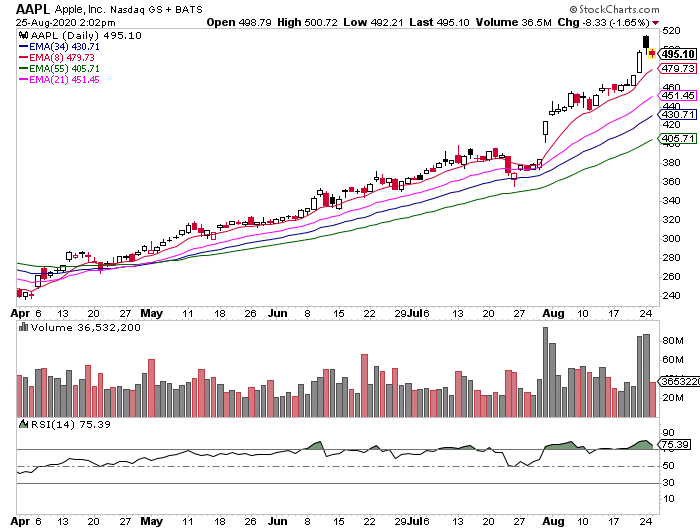 That 1.5-2% drop in AAPL allowed me to generate more than 20% in returns overnight.
Listen, I'm not telling you this to brag…
I'm telling you this so you know that timing, especially in this market environment, is key.
That's why I developed Rooster Report.
It's the 1 trade idea I sent out every trading day that I believe can grow my account. 
The AAPL trade was a Rooster Report idea, and I can tell you that's just one of the many wins I've had recently.*
If you truly want to trade with an edge and time your trades better, then click here to find out how Rooster Report can help.
*Results presented are not typical and may vary from person to person. Please see our full disclaimer here: ragingbull.com/disclaimer