Futures are set to open in just a few hours… and we're already seeing coronavirus headlines and how it could cripple various economies.
Not only that, but it's going to be a busy week on both the economic and earnings front.
Fed Chair Jerone Powell speaks on Tuesday and Wednesday

Inflation data and Jobless Claims on Thursday

Retail Sales and Consumer Sentiment on Friday

Major companies like Under Armour (UAA), Allergan (AGN), Pepsi (PEP), Lyft (LYFT) and Shopify (SHOP) are set to report this week.
With so many catalysts on the table, it very difficult for some to find trade ideas out there.
Should you get long stocks or sell the rip at the levels? That's the one thing many traders have on their minds right now. However, that's the wrong way to play this game. Instead, what I'll be doing is putting my best foot forward and looking for my best trade idea tomorrow.
The last two Jackpot Trades have been nothing short of spectacular — as I spotted back to back 50% winners. To get you prepared for the week, I want to walk you through EXACTLY how I found these winners, and how you can join in on the action.
Every Monday, I look for my best trade idea and send it out to my clients. How does it work? Well, I look for my favorite chart patterns or a catalyst… it's really that simple. 
Don't believe me?
Let me walk you through two 50% winners and how I spotted them, so you have an idea of how to spot the best trade ideas in the market.
I spotted one of my bread-and-butter patterns, and I was able to lock in $10,000 overnight… but you could've more than doubled your money if you held on for the entire move.
Just take a look at the daily chart in MGEN below.
This stock didn't care what the overall market was doing when stocks were all over the place… so I figured it would be the perfect Jackpot Trade idea of the week.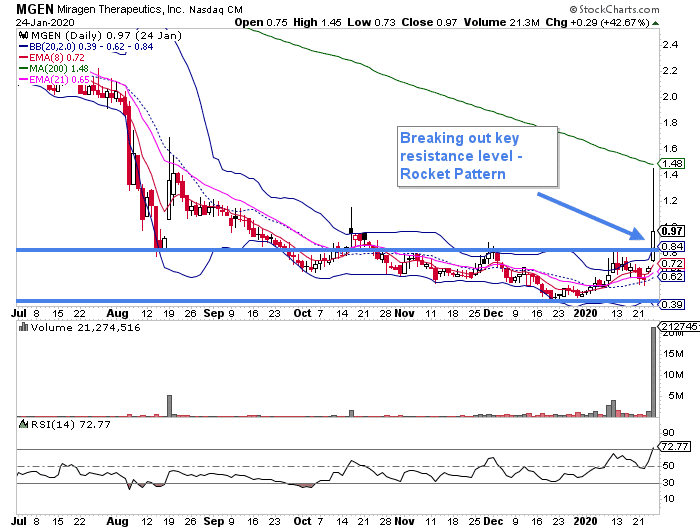 If you look at the chart above, the stock broke above key moving averages (the 8-day exponential moving average (EMA) and the 21-EMA). Additionally, the stock broke above a key resistance level.
That signaled to me the stock could rocket higher.
That wasn't the only thing MGEN had going for it. In fact, the company was expected to report data that week. Typically, when there's a catalyst event, especially in a biotech name… they tend to run higher.
Well, that's what I expected MGEN to do.
Here's what I sent out to Jackpot Trades clients on Monday.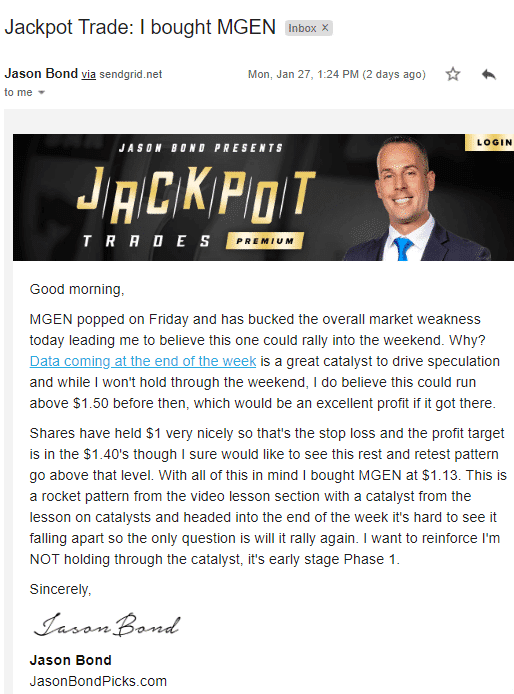 I didn't only provide the trade idea… I also provide them with a detailed trade plan. MGEN was holding the $1 level, so that would've acted as a support level, in case things went sour. So if MGEN broke below that, it would've been clear the pattern was broken and signaled you to stop out.
Not only that, but there was a target in mind. The $1.40s was a great level to take profits.
Well, guess what happened on Monday?
The stock made the move I expected!
Now, you could've bought shares at $1.10 and put a stop-loss just below $1. Thereafter, you could've put a limit order to sell half at $1.45, and the rest at $1.60. That means you could've made as much as 45% in just a single day.
However, I figured this stock had some legs… and once it broke above the 200-day simple moving average (SMA) — the green line in the chart above, MGEN could've gained momentum and continued higher.
I decided to hold onto my position for another day to see if I could juice some more profits out of MGEN. There wasn't a signal that the stock could pull back and hurt me.
Tuesday Morning, I sold my position in the $1.60s and locked in a near 50% winner, or $10K in profits!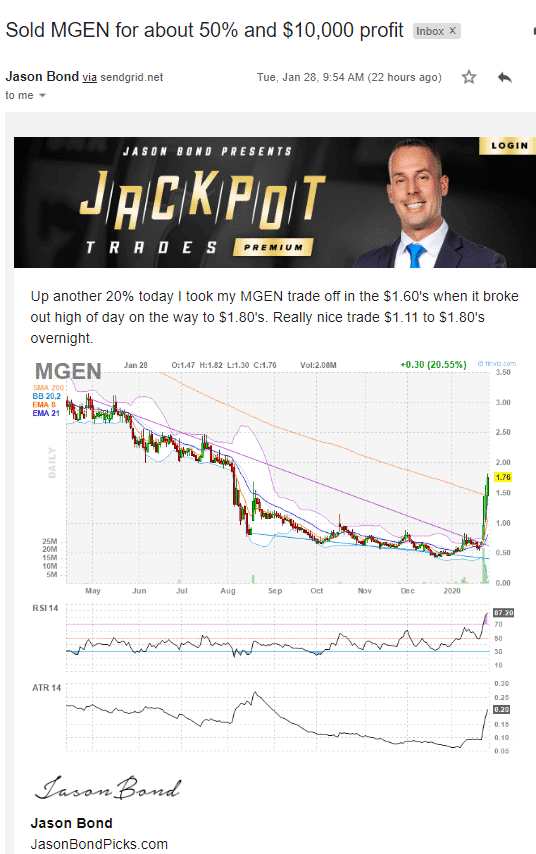 (Stop hearing about these winners after the fact, and get my best trade idea delivered straight to your inbox on Mondays. Click here to join Jackpot Trades now)
The thing is… if you were confident in the trade, you could've generated a near 80% return because MGEN got all the way to $1.97 yesterday.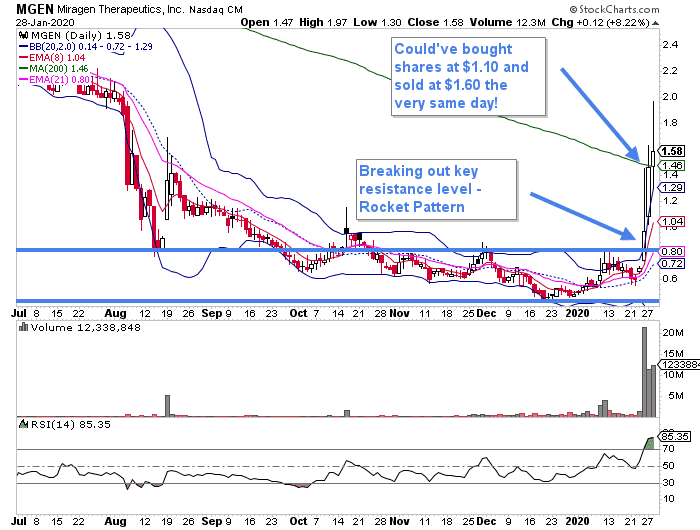 Another 50% Winner In My Jackpot Trade
Last Monday, I spotted a stock with an upcoming catalyst event, and I figured the stock had tremendous upside potential heading into this. The Jackpot Trade was Intelsat Global (I).
Why did I choose this specific stock?
Well, at one point, Intelsat traded above $25 a share, but the FCC rejected their plans to conduct airwaves sale privately… and that crushed it. However, there is an FCC vote later this month, as they would look to re-evaluate the set of rules of the company's sale.
It's expected that privately, the auction for the company's C-band airwaves could fetch billions… and the stock has a market cap of less than $1B. If you think about it, a lot of traders may have looked to buy ahead of the event in an attempt to capture the massive upside potential.
The thing is, with billions of dollars on the table… you can imagine how aggressive the company would be with its lobbying efforts. If the FCC actually changed the rules, it would be a windfall for the company.
On the other hand, the downside was if the company's lobby efforts fall short… it would take on a large amount of debt, and a small public auction wouldn't bring home enough cash to keep the company from heading into bankruptcy.
With that being said, there was a lot of risk on the table.
However, when I looked at the charts, my fish hook pattern came up, and the stock actually caught a nice pop the day after I got into the trade!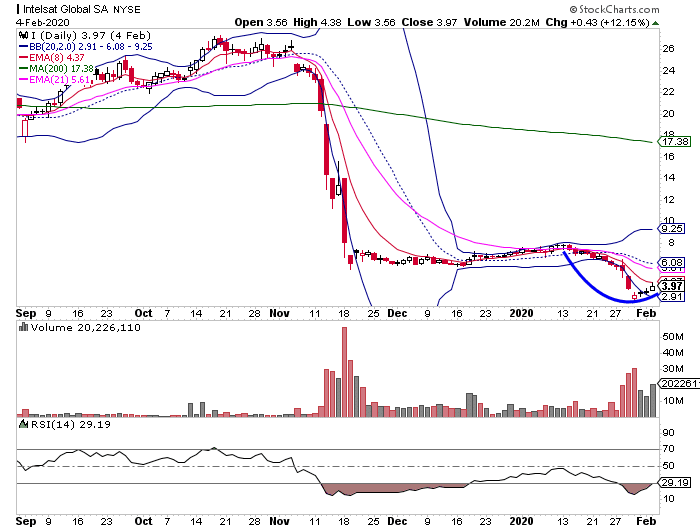 The thing is… when there's a lot of risk on the table, it wouldn't be wise to buy the stock outright.
Why?
Well, what happens if the lobbyists failed and the stock tailspins into bankruptcy?
The stock would get crushed and potentially head into sub-$1 territory.
So what did I decide to do instead?
I bought calls in the name instead because I knew exactly how much I would lose, and I would be able to manage my risk properly in relation to my account size.
Just one day after I got into the trade, I nailed a 50% winner and I took my profits off the table!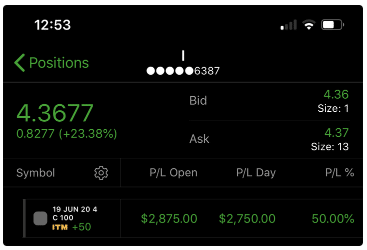 The stock ran up, as the FCC vote appeared to be on February 6. Sure, I could've held on for the home run, but I figured 50% overnight was a home run, especially when it comes to Jackpot Trades.
So I played it safe and locked the winner down. Sure, I may have left some on the table, but I stuck with my plan… and that was 2 back to back winners for Jackpot Trades… A $10,000 winner the previous week and $2,460 this week.
If you missed out on my Jackpot Trades winners the last two weeks, don't worry… I've got a great one set to go out tomorrow. If you want to learn how to receive my best trade idea via email every Monday, then click here to watch this exclusive training session on why I think Jackpot Trades may be the solution for traders strapped for time.