You probably already know that I'm always on the hunt for momentum trading opportunities. For the most part, I stick with buying momentum stocks… however, I know ignore potentially bearish plays.
For example, I spotted a quick trade in IWM after its remarkable bounce… but I figured there could be pullbacks along the way, and when stocks (or ETFs) drop, they do so quickly. That bearish momentum play allowed me to lock in approximately 30%.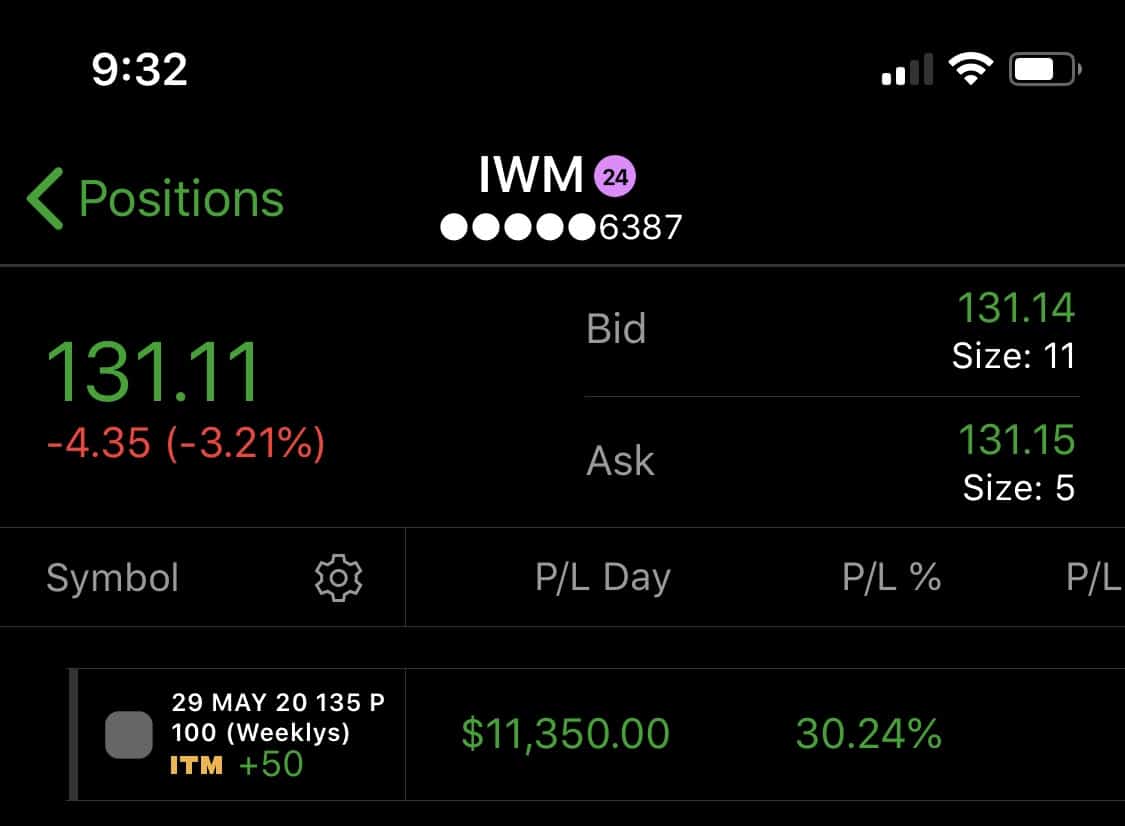 Now, there is one stock that I think can drop… and if it does, I think it'll be a sharp plummet. AMC Entertainment Holdings (AMC) has a bevy of catalysts working against it. I haven't taken a bearish play on the name yet, but it is on my radar.
Today, I want to walk you through why I think AMC could be headed lower, and what levels I'm watching right now.
The other day, NBCUniversal saw incredible success from its Trolls World Tour release. Universal revealed the release of the family flick racked up about $100M in VOD rentals in its first three weeks in North America alone, compared to $116M that was generated by the original Trolls movie in its first 3 weeks.
With the ongoing pandemic, Universal decided to release the film straight to Premium Video On Demand (PVOD)… and that could actually hurt movie theatre companies like AMC.
With this news, in an open letter, AMC announced that the company would stop playing any Universal movies in the company's theaters in the United States, Europe, or the Middle East.
If you don't know, Universal accounts for about 15% of total box office revenues, and that would eat at AMC's top and bottom-line. Right now, we're seeing the threat direct-to-streaming poses to AMC, and the coronavirus pandemic has actually accelerated this trend.
Of course, this could be a negotiating tactic by AMC, but if Universal doesn't take the bait… well, AMC's business could get damaged.
Now, AMC already has seen dips in its attendance… and I think AMC will have a hard time driving people back to movie theatres after the pandemic ends. Think about it like this, streaming services have looked to shorten the time between movie theatre releases, which can negatively impact AMC's revenues.
Can AMC Be Headed Lower?
AMC has nearly $5B in debt (as of the fiscal year 2019), and there have been reports that the company hired debt restructuring lawyers. More recently, the company issued a $500M debt offering at an extremely expensive 10.5% rate… and management expects that to last until November.
That means bankruptcy could be in the cards for this movie theatre company. Of course, the stock did see a massive move in the past few sessions… but if the coronavirus pandemic and stay at home orders stay in effect longer than expected, well AMC could be headed for a downturn.
If you look at the daily chart below, the rebound in AMC looks like it could be just a dead cat bounce. Right now, the move is extended, as the stock broke above the upper Bollinger Band. Typically, when I see this type of action… the stocks actually pull back.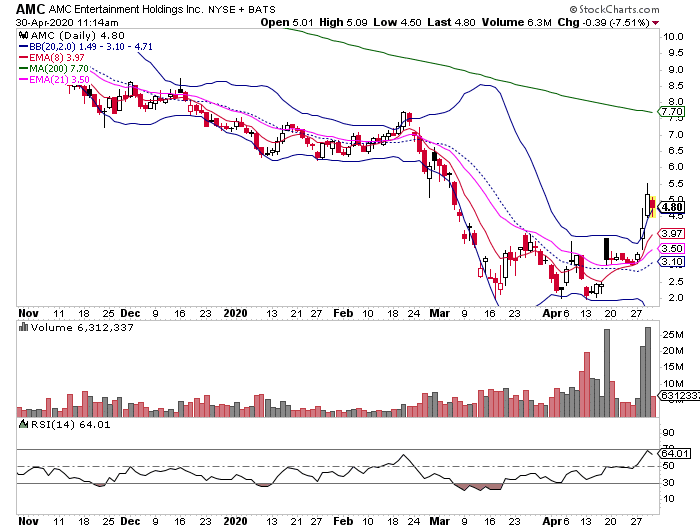 Chart Courtesy of StockCharts
That could very well happen with AMC in my opinion. Now, I haven't made any moves in AMC yet… but if I do, I'll look to use put options to take advantage of this potential momentum play.