Well, Tesla Inc. (TSLA) is set to conduct a stock split, making shares cheaper and more attractive to "smaller" traders and investors.
The market is already pricing in there might be increased demand in the coming weeks, and it makes sense to me as to why the stock was up more than 10% today.
Now, I actually traded TSLA two ways.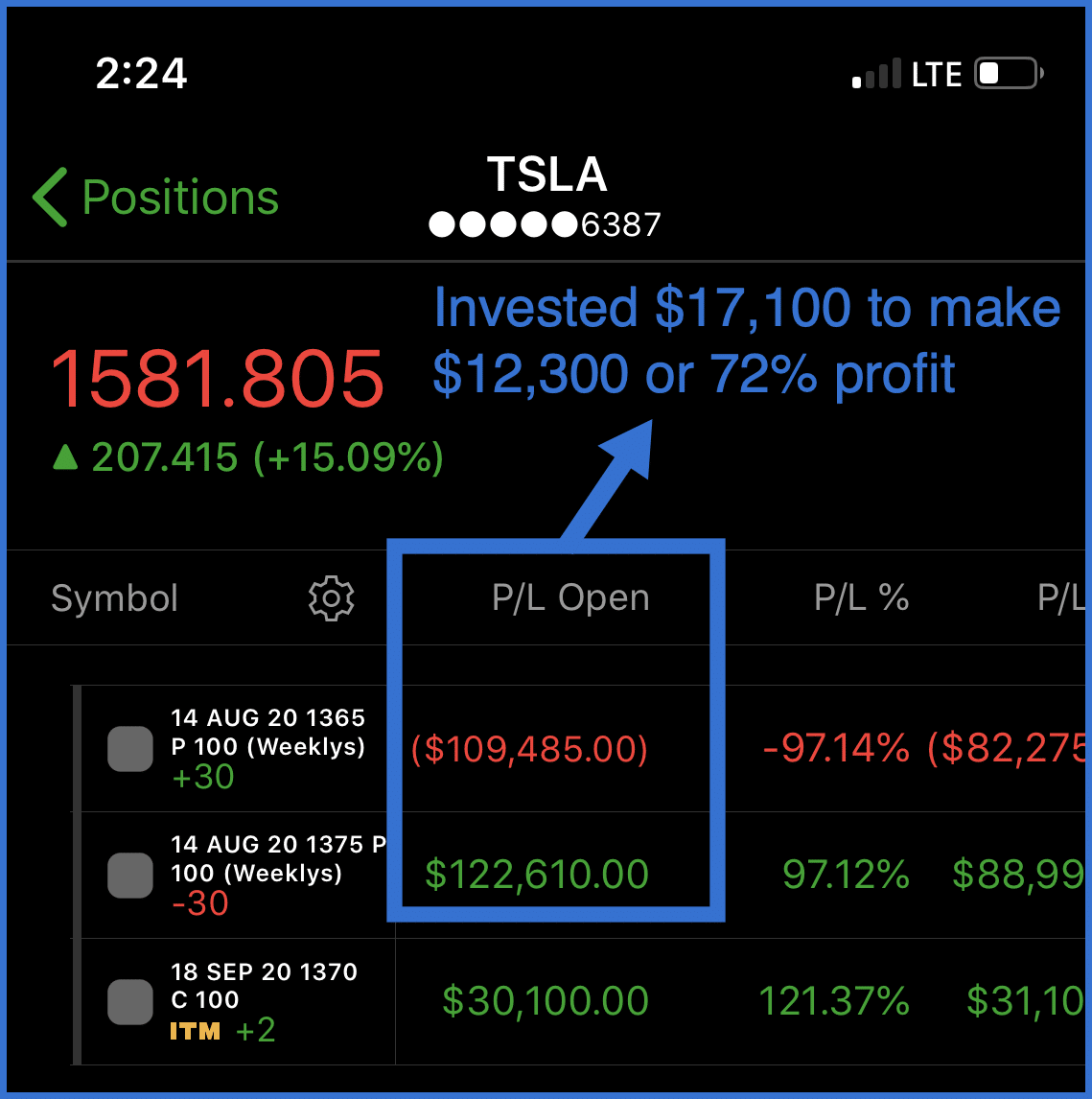 I traded TSLA using my Weekly Windfalls strategyand locked in a 72% gain*.
With Rooster Report, I sold half of my calls and letting the rest ride. Sure, I'm up big in those TSLA calls*, but I believe it makes sense to hold given the price action and potential news.
I want to reveal to you my thought process as to why I'm still in the calls, and how I spotted the trade idea.

Here's what I sent out to Rooster Report on Tuesday.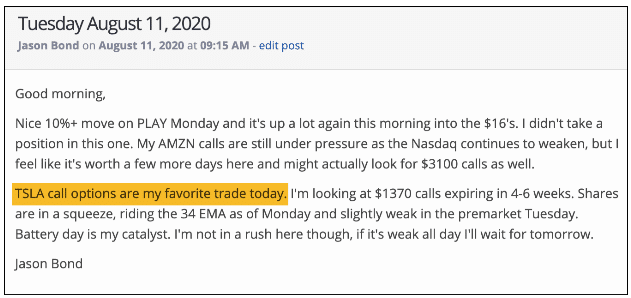 The reason I loved TSLA was the bullish chart pattern.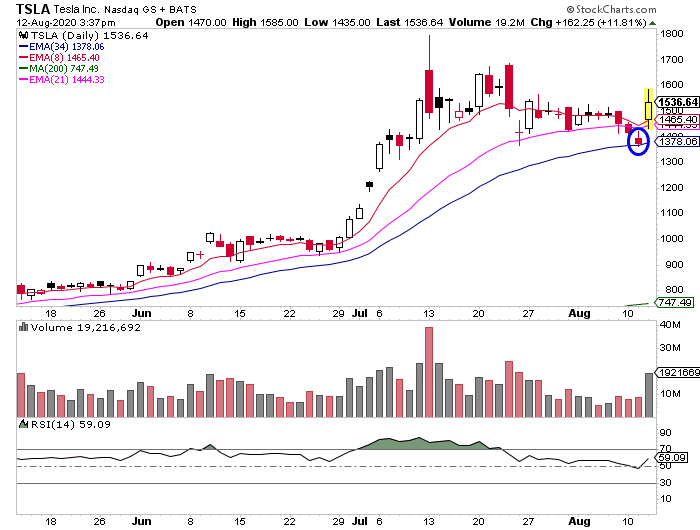 Take a look at that blue encircled area in the daily chart above. That's the 34 exponential moving average (EMA). I've noticed that's been a key support level for a lot of momentum stocks.
That's why I wanted to get in… in anticipation of demand picking up.
Not only that, but there's still a looming catalyst, Tesla's battery day on Sept. 22.
Here's what I sent out on Tuesday morning, shortly after the opening bell.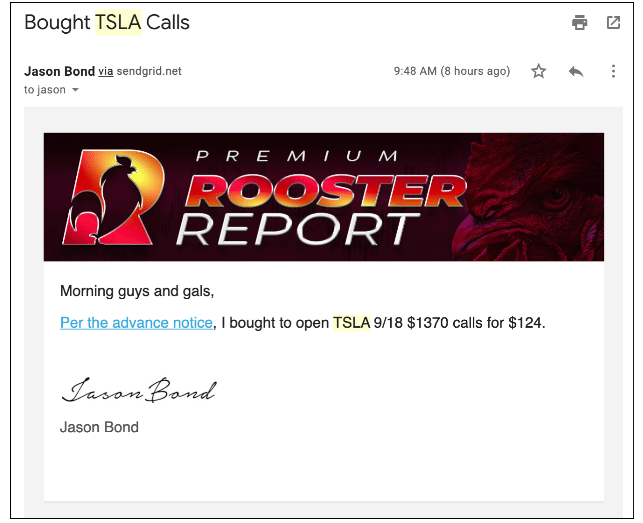 Not A Rooster Report Subscriber? Sign Up Here, My Next Pick Drops Tomorrow.
I got a bit lucky with the whole stock split news, but I'm not complaining. All that matters was the chart pointed me to the action, and the battery day catalyst.
Of course, I already explained the news about the stock split…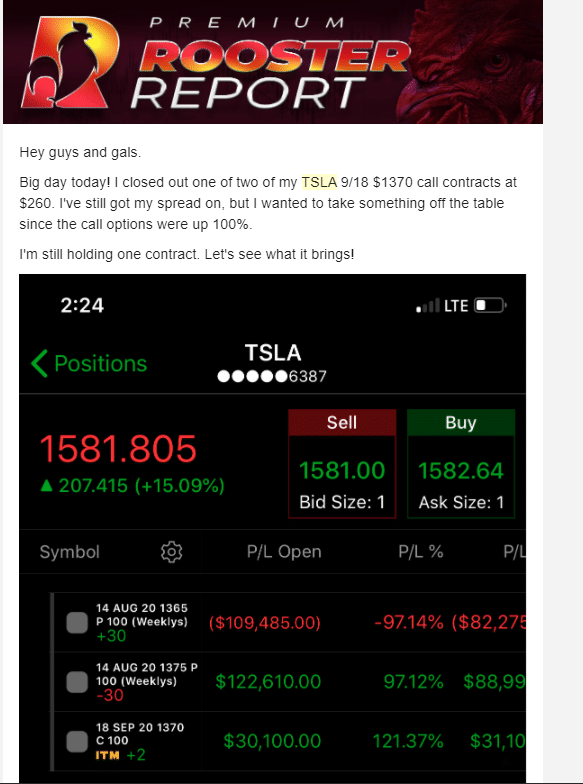 Now, it was prudent to lock in half my gains*, especially since it was good for a triple-digit return.
However, I know how TSLA trades and the stock can gain momentum and continue higher, so I figured it made sense to hold for an overnight gap.
Listen, I'm set to release my next best idea tomorrow morning… and I don't want you to miss out.
Sure, I'll be monitoring this position.
But I'm also focused on putting brand new trades on.
In fact, an all-new Rooster Report drops tomorrow.
And if there is one thing you've learned from this TSLA trade…
… I'm not chasing crumbs… I want the whole loaf of bread.
And if you want in on this type of action it's simple.