On Friday, we saw the Dow drop by 600 points — one of its worst days since August… all due to the growing fears of the coronavirus. Over the weekend, more headlines flooded the wire… and we could be waking up to another gap down tomorrow. Who knows.
There's one thing I do expect to happen — potentially choppy price action.
But the thing is, to make real money trading, you don't need to use a magic 8 ball to tell you which direction the market is headed tomorrow.
All you really need are simple, smart, repeatable setups that WORK in any market environment.
Like my fish hook and rocket patterns.
If you want to walk into tomorrow's action guns blazing… ready to fire on all cylinders… think again. The elite traders won't be throwing down random bets. Instead, they'll remain patient and only look for their bread-and-butter setups.
At least that's what I'll be doing.
Why?
Last week, my best trade idea scored a 50% winner for me — a $10K winner in just a few days… but if you stuck with it, you could've caught an even bigger move…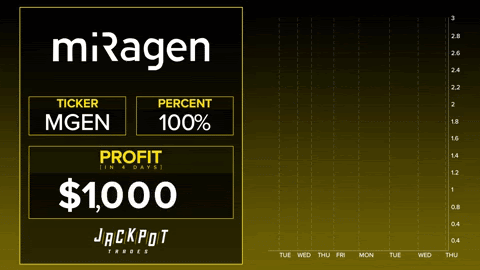 (Missed out on this massive Jackpot Trades winner? My next best trade idea drops tomorrow, don't miss out!)
Today, I want to walk you through my process and how you could find setups just like the one in Miragen Therapeutics (MGEN).
Every Monday, I look for my best trade idea for the week. Now, I know what you're thinking… Jason, how in the world can I grow my trading account with just one single trade a week?

Well, it's simple. If you're able to just focus on one set up, you actually improve your odds of success. You see, if you just throw down random bets and try to find the direction of the overall market… you're at the mercy of the news headlines.
However, if you just stick with one trade idea a week, you're able to get into a state of flow and best of all, you won't panic if you're waking up to a gap down.
Let me show you how it all works…
When I look for my highest conviction trade idea, one easy step is to look for stocks not correlated to the overall market. In other words, look for a stock that doesn't necessarily move with the S&P 500, Nasdaq, or Dow.

In my most recent Jackpot Trade, that's exactly what I did… and here's what I sent out to my clients.

Not only that, sometimes, it helps to find a stock with an upcoming catalyst. This actually improves your odds of success because chances are, the stock will move off the catalyst, not what the overall market is doing.
When I'm looking for my Jackpot Trades, I also look for my bread-and-butter chart patterns at times. Why? Because they're just so darn effective.
With MGEN, I actually spotted the rocket pattern, my breakout setup of choice and I bought shares at $1.11.

What is the rocket pattern?
It's simple… all I'm really looking for is for the stock to break above a key resistance level on high volume with an uptrend.
The breakout above resistance is the "rocket," and you could see it in high-definition below…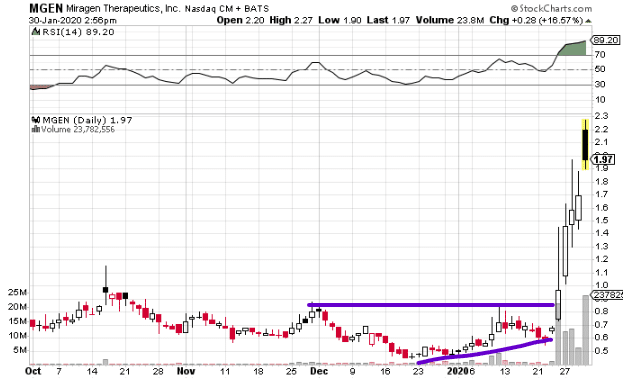 With the rocket pattern, there are three things to look for:
A resistance level that's been tested a couple of times before

An uptrend leading up to another test of the resistance line

Increasing volume on the breakout
If you look at the chart in MGEN, it satisfied all those conditions… and the icing on the cake was the upcoming catalyst.
Shortly after I alerted Jackpot Trades clients about MGEN, the trade got off to a strong start Monday afternoon, but I actually decided to hold the stock overnight. Why? I expected the stock to build momentum…
Sure enough, I was able to snag some additional upside shortly after the opening bell on Tuesday.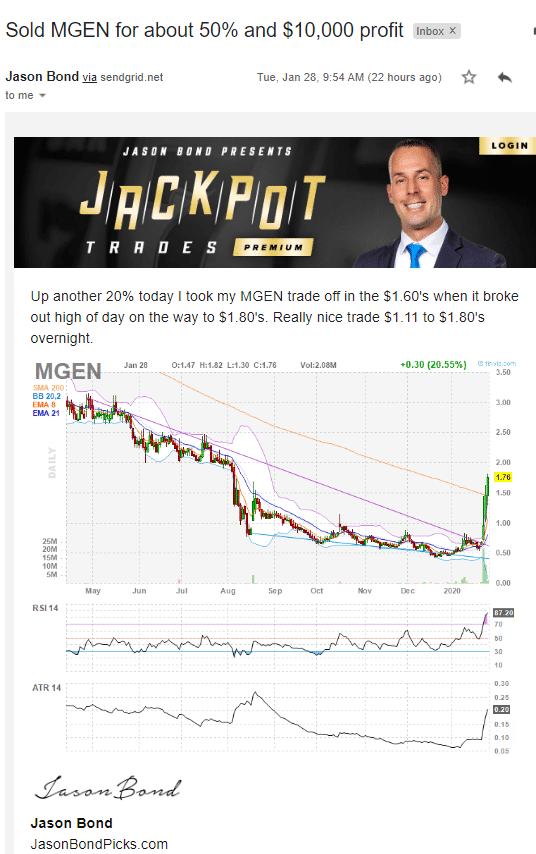 That's right, I locked in a 50% winner overnight!
But MGEN wasn't out of fuel yet… and sure, I could've held onto the stock much longer, but I didn't want to deviate from my trading plan. However, if you devised a plan to sell half at 50% and let the rest ride… well, you could've potentially more than doubled your money…
If you bought MGEN shares when I alerted his Jackpot pick on Monday, and were able to sell at the top… you could've made as much as 148%, in just 4 days time.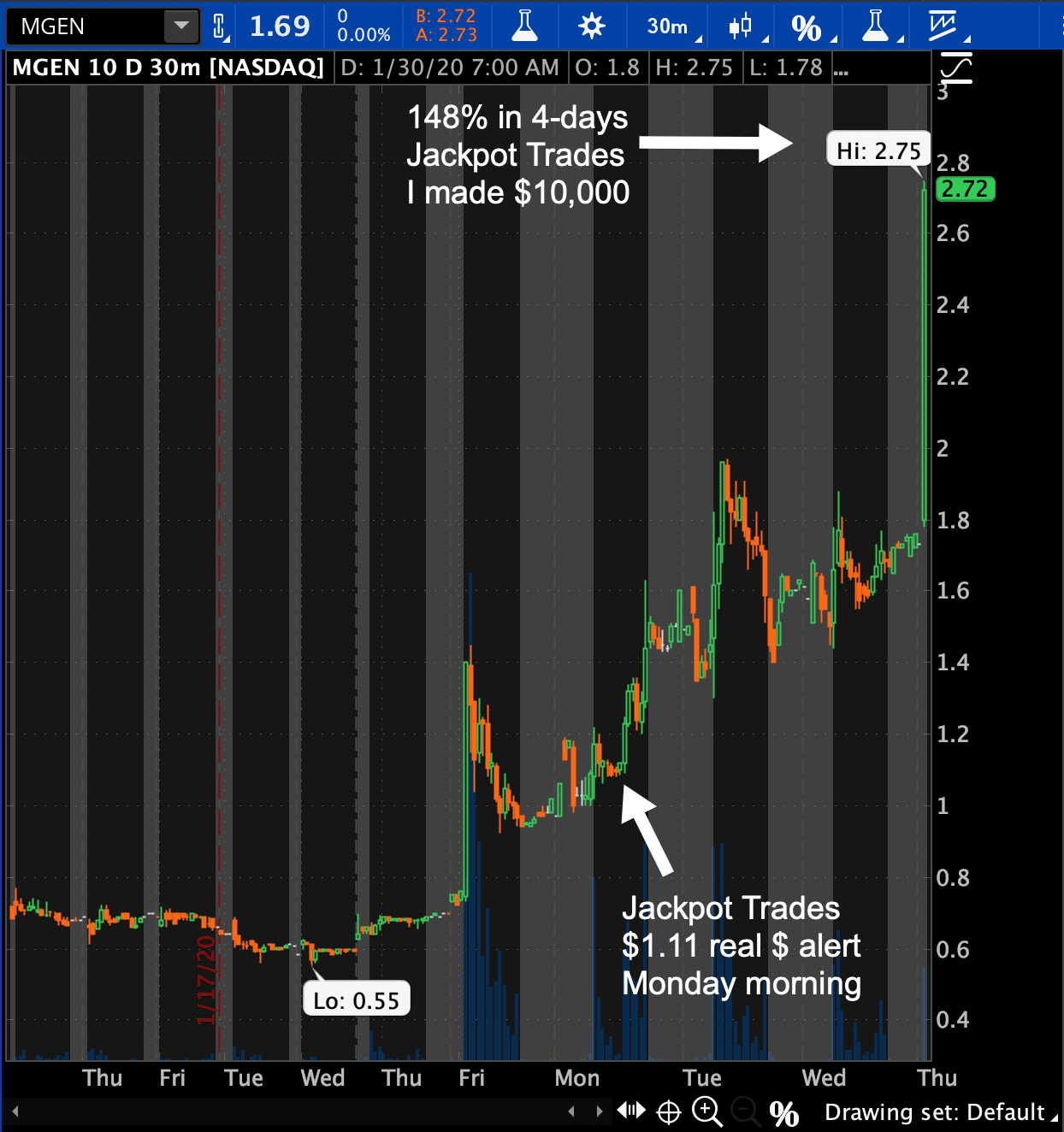 In this market environment, it's not about the number of trades you take… quality really matters right now.