With the wild price action stocks had last week…
Many traders are wondering whether it can spill over come Monday morning.
Since it's a holiday-shortened week, I believe things are going to be a little wacky…
So I'm going to remain patient.
However, that doesn't mean I'll be on the sidelines and just relaxing.
I will be actively hunting down momentum stocks and developing a watchlist.
Today, I want to draw back the curtain and show you what I'm watching in the coming week…
As well as how I plan to uncover momentum trading opportunities.
With coronavirus cases topping 10M worldwide and all the politics going on… things can get a little crazy.
Since there may be a lot of noise in the coming days…
I'll be focused on key levels right now.
One exchange-traded fund (ETF) I'll be keeping an eye on is the iShares Russell 2000 ETF (IWM).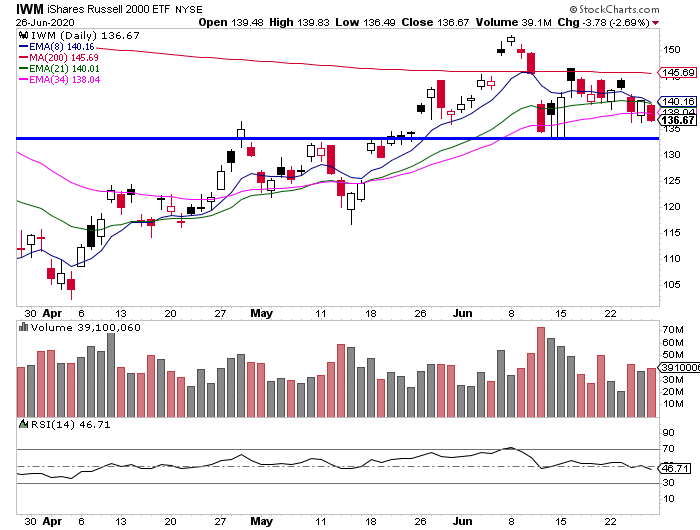 Chart Courtesy Of StockCharts
On the daily chart, IWM is trading below some key moving averages, and I believe the next line in the sand is right around $132.50, the blue horizontal line in the chart above.
I'm going to keep an eye on how IWM performs there because if it does break below, it can fill the small gap it has between $121 and $130.
Now, if I see IWM hold at a support level, I think there will be buyers who step into the dips.
How I Plan To Attack The Market
For me personally, I want to look for specific momentum stocks that can be relatively strong against the market.
How?
By using my scanner.
I'll look for stocks that are liquid come tomorrow morning that are gapping up…

Source: Scanz Technologies
Thereafter, I'll look at the charts to see if I notice any of my bread-and-butter setups.
I know what you're thinking… Jason, do you have any specific stocks you're watching now?
Well, Blue Apron Holdings (APRN) comes to mind.
You see, with some states re-thinking and rolling back their re-opening plans, it can benefit food delivery stocks, such as APRN.
If stay-at-home orders are enforced again, I think APRN could continue higher from here.
Chart Courtesy Of StockCharts
With APRN, I'll be keeping an eye on the 50% retracement level, right around $10… and I'll continue to monitor this whole coronavirus situation.
Since APRN only has above 7.84M shares floating and a short interest of 32.67%, I think any news of stay-at-home orders can squeeze the shorts… so it's on my radar.
Now, come tomorrow morning, I'll be actively scanning for potential stocks to trade… and if you want to get in on the action, and learn how I plan to find some of the hottest momentum stocks out there…