Tomorrow is the start to a brand new trading week, and you better believe I've already started to plan out some ideas.
Every weekend, I'm on the hunt for potentially explosive small-cap momentum plays…
And this week, I've uncovered what I believe to be the best risk-reward opportunities out there.
It's extremely important to have a watchlist in this environment because small-cap momentum stocks are taking off everyday…
I believe if you have a few stocks on your radar ahead of time, you can figure out areas to buy, lock in gains, and stop-out… which can translate to flawless execution.
That's how I played Westwater Resources Inc (WWR) last week.*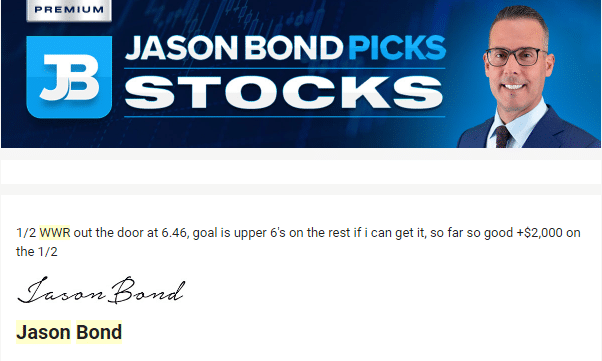 Subscribers got that trade idea on my watchlist, and I even sent them an alert about my entries and exits.
Remember, when it comes to any trade idea, it's important to take it and make it your own because we all have different risk tolerances.**

This week, I've got three sub $5 stocks on my radar and since my patterns popped up in them… I believe they have the potential to take off this week.
Don't go into the trading week without a watchlist, or you might miss out on some explosive trades.
Hertz (HTZ)
The iconic car rental company has been struggling for some time now – a situation that's only deteriorated further when the pandemic hit

The stock was down over 90% YTD with most market participants agreeing that the company is headed for bankruptcy

On Friday morning, news came in that the company was able to secure $1.65B Debtor-in-Possession financing, that will allow it to continue operations while in Chapter 11 bankruptcy

The stock responded by gaining over 140% having traded over 1 billion shares on the day

HTZ also has a solid 20% short interest — with bankruptcy at least postponed, any further up move might trigger forced covering

If this stock stays above $2.30 (above a key Fibonacci retracement and a previous inflection point, I believe HTZ can take off and retest its highs on Friday. If there's further momentum, then this stock has the potential to get the $3.50 – $4 area.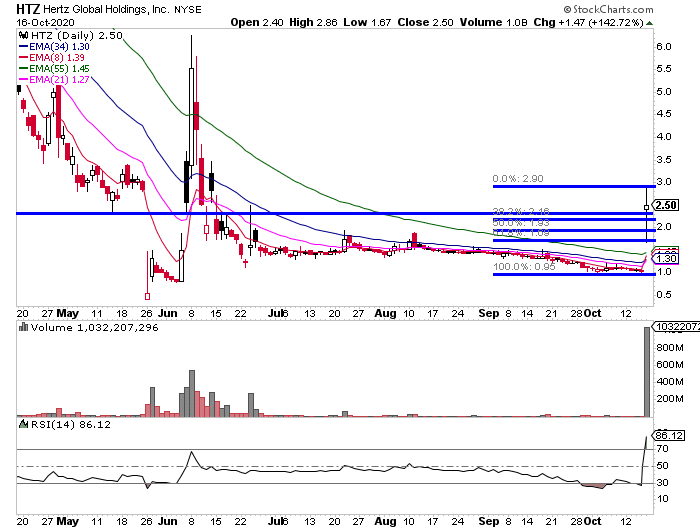 CTI BioPharma (CTIC)
A biotech company developing a drug called "pacritinib" for the treatment of myelofibrosis

On Sep. 29, the company announced that it will be submitting a New Drug Application(NDA) for the potential accelerated approval of pacritinib

The stock is consolidating cleanly above $3 since and looks poised for another leg higher

There's a bull flag / pennant forming, and with this setup, I would want to get in as close to that support in the consolidation area, which is around $2.85 – $3.00. If it breaks below $2.65, the pattern would be broken because that just so happens to be the 38.20% retracement level. The target here would be around recent highs for a portion, then the rest at a level higher, depending on what the price action looks like.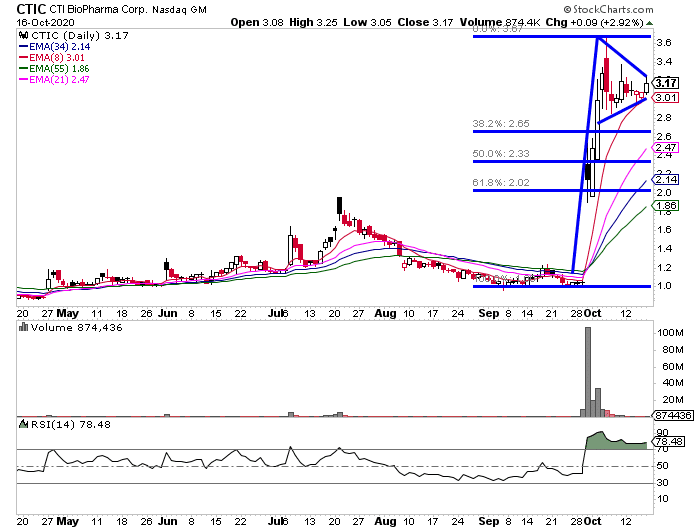 Vystar Corporation (VYST)
The company's main product is Rx3000 Air Purifier – an FDA Certified Class II medical device that's claimed to kill 99.9% of airborne viruses and bacteria.

The company has announced that it's readying the purifier for large scale production to meet the increasing demand.

The stock responded by moving 45% higher, breaking above $0.05 long-term resistance.

The $0.06 area looks attractive with a price target of $0.10 – prior resistance, and potentially much higher than that.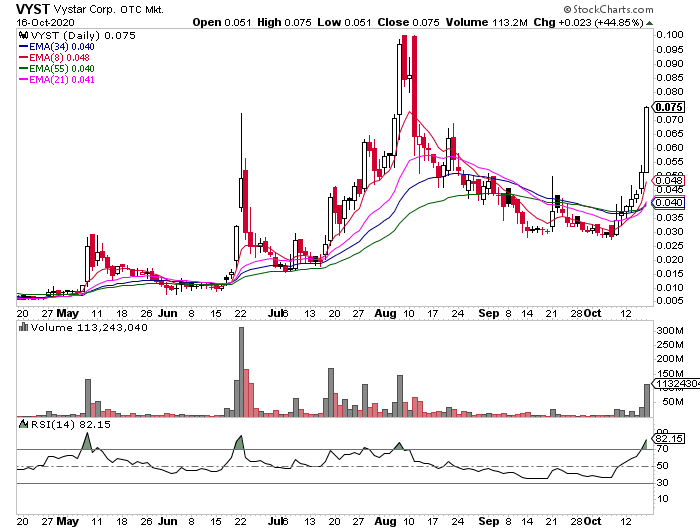 Keep these stocks on your radar this week, I wouldn't be surprised if one of them becomes a top gainer.
If you want to find out how chart patterns can make you become a better trader and develop an edge in the market, I urge you to attend my Chart Patterns Training Workshop.
You'll discover three of my most scalable and reliable patterns and how I utilize them to uncover momentum stock before they take off.
*Results presented are not typical and may vary from person to person. Please see our disclaimer here: ragingbull.com/disclaimer
**RagingBull does NOT track or verify subscribers' individual trading results and these individual experiences should NOT be understood as typical as or representative. Please see our full disclaimer here: ragingbull.com/disclaimer