Yesterday the hottest sector in the market got rocked. Some EV-related stocks were down more than 15%, and by the looks of it…
That action is going to continue.
With the market closed on Thursday, I wanted to button up my stock positions and for today, I'll be highly selective if I do decide to trade.
I don't want to go into the Thanksgiving holiday thinking about my positions, I want to relax and de-stress, which is important as traders.
Given what's happened with EV stocks, it's a risky play to get into them and if I do decide to trade them, I'll wait for one of my bread-and-butter setups.
Now, the price action actually gave me a clue.
You see, such bearish action often signals a shift in sentiment. It also often indicates the end of a short squeeze cycle in recent runners.
While EV stocks will offer many great opportunities in future, I think now is the time to look at some potential plays elsewhere.
Here are two small-cap stocks that might squeeze higher.
Yunji Inc. (YJ) 
Now, this is one stock I traded yesterday.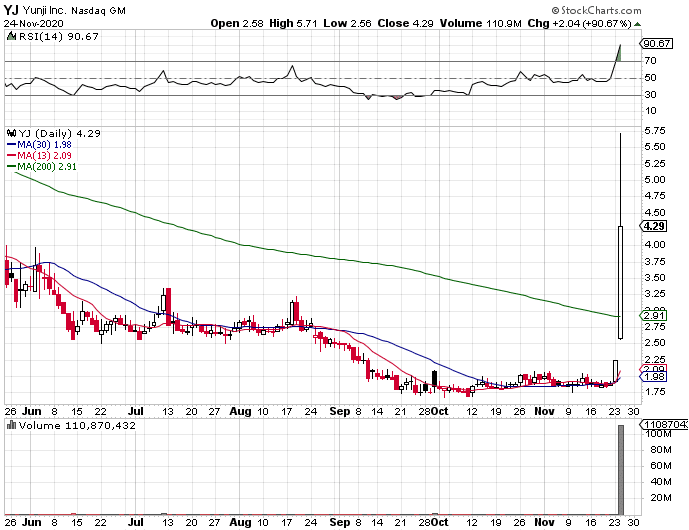 This Chinese e-commerce platform specializes in selling and marketing goods through Chinese social networks like WeChat. 
Just yesterday, the company announced a partnership with Douyin, a Chinese live streaming platform owned by ByteDance. 
Currently, the company's market cap is around $910M, a relatively modest number compared to some other niche e-commerce platforms like Jumia with $2.6B. The company is expected to announce earnings on 11/26/2020 at 6:00 AM ET (since it's a Chinese company, there isn't a holiday break).
Keep this one on your radar, I think there will be potential areas of value. I'll be focused on the price action and remain patient until one of my time-tested patterns show up.
Next up, there's BLCT.
BlueCity Holdings (BLCT)
This one is off the radar for most traders.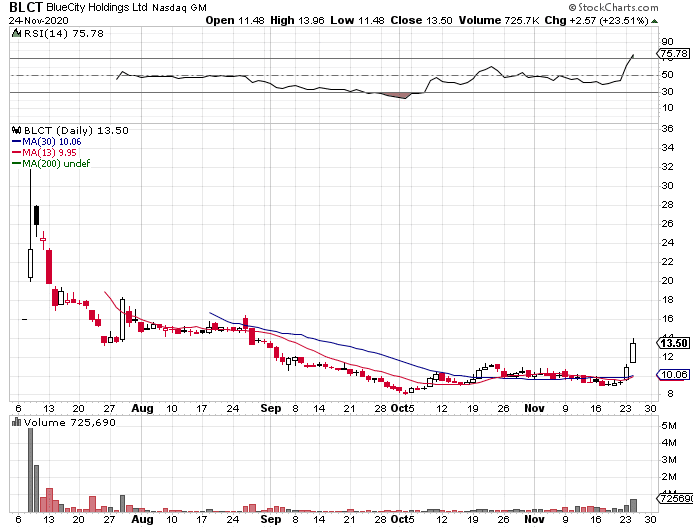 Shares of BlueCity Holdings, a Chinese based world's leading online LGBTQ platform closed up 23% yesterday. Right after close, the company announced that it has entered into a definitive agreement to buy Finka, a popular Chinese dating platform. 
BLCT's chart looks very interesting given the float is only 4.8M shares. While the volume is on the thinner side with 300K shares traded on average, this stock could get wild above $15. 
I think it's important to keep an eye on this one in the coming days to see if more volume starts to come in.
Chart patterns are what's working to identify small-cap stocks before they take off.
If you want to learn how I utilize pattern recognition to attack the market, then skip the Netflix and football… and watch this training session instead.