Momentum stocks have been hot… and every day, I see large movers pop up on my scanner.
It's where I've been able to uncover some of the best momentum trading opportunities.
Yesterday, ARCA Biopharma Inc. (ABIO) was one of the hottest stocks… as it finished the day higher by 386.33%.
The reason for the exponential move?
ABIO announced plans for a development program to treat the coronavirus.
Now, I actually saw this come up on my… and I let Jason Bond Unchained subscribers know about my plans in the early afternoon.
The stock actually moved nearly doubled from where I was looking to get in.
Today, I want to show you the pattern I used to spot this… and why I believe it's so powerful
On Thursday, at 12:23 PM ET… I sent out an advance notice alert to Jason Bond Unchainedsubscribers know that ABIO was on my radar and I was looking to purchase shares.
Here's the note I sent out.
#4 ABIO stock is one I'd like to day trade today or maybe even play for a gap tomorrow. My buy zone is around $10, prolly partial size, more in the $9 range and stop below $8 is my thinking. Would like to see if this bull flag is going for the high of day in the $13's. Very liquid and active 1st day mover on news, assuming no offering I'd think gap higher tomorrow. If this holds strong in the $11 range I'll move up later today.
Now, I missed my entry because the stock was moving pretty fast and I was on the hunt for other momentum stocks to potentially trade.
Of course, it's trading and there are no excuses. I got distracted.
However, even though I missed the trade, I always find it beneficial to study trades so it becomes ingrained in my memory. That way if I see a similar pattern, I'll look to strike.
The pattern in ABIO was pretty simple to me.
There was news, it came up on my scanner, and one of my favorite patterns showed up.
If you notice in the alert I sent out to subscribers, I mentioned the "bull flag" setup. Typically, when I see this pattern in the stocks I'm trading… it signals a potential breakout.
Let me show you how it works.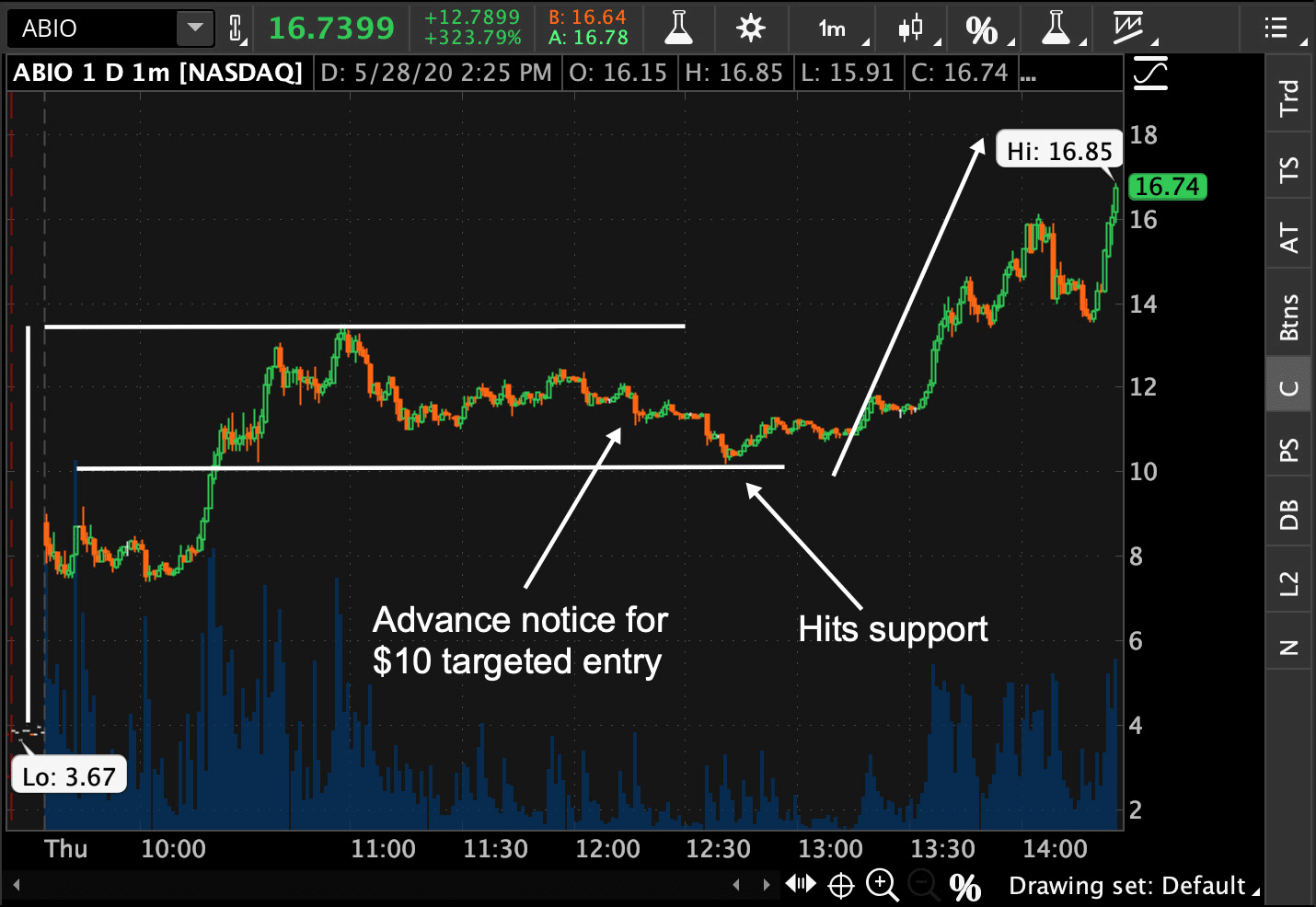 Source: thinkorswim
With the bull flag pattern there are two components… the flag portion (here it's the large gap up, I drew a white vertical line on the left-hand side of the chart to show that).
Thereafter, there is generally a consolidation area. This forms the "flag" portion… and I believe it's important to be able to identify the flag portion.
Why?
Well, for me personally, I'm able to identify areas of value. In other words, entries and exits. For ABIO, I mentioned I wanted to purchase around $10.
If you look at the chart above, the $10 level was a key support level in the bull flag setup. When I see this setup, I believe the lower level that forms the flag setup holds… and if it doesn't that means the pattern is broken.
So it not only helps to identify key entry levels, but also key stop-loss areas.
If you notice, I was able to come up with a clear and concise game plan. I would look to buy shares at $10… if it pulled back and broke below… I would purchase more shares in the $9 area. If it got below $8, I would stop out.
Here, I was looking for the stock to get to $13 (the top portion of the flag) to look to take some profits off the table.
Of course, I missed the entire trade… but some subscribers were able to take my plan and make it their own…
And I'm so stoked they were able to take part in this move.



*DISCLAIMER: To more fully understand any Ragingbull.com, LLC ("RagingBull") subscription, website, application or other service ("Services"), please review our full disclaimer located at https://ragingbull.com/disclaimer.
The thing is… I'm confident in my ability to spot momentum stocks that are poised to move every trading day. If you want to learn more about my momentum trading strategy, then click here and register for my exclusive masterclass. In it, I reveal my number 1 edge and how I'm able to trade on a part-time schedule.