With so much action in the market, it often gets hard to filter out the noise…
And find stocks to trade.
Today, I want to point out one momentum stock that I just uncovered.
It's one that I want to keep on my watch.
You see, I'm noticing a bullish pattern in the stock right now…
And it's also heavily shorted.
That means any positive catalyst could cause this stock to pop.
So what's the ticker and the pattern I'm watching?
Gogo Inc. (GOGO) caught a pop last week after the company announced that its business was showing a potential recovery.
If you don't know, GOGO is the leading provider of broadband connectivity for airlines.
It hit 3,000 daily flights and the president mentioned there are several positive trends in the work right now.
With a catalyst in the works, another news event could cause GOGO to get to recent highs.
Here's a look at what the stock is going on the daily chart.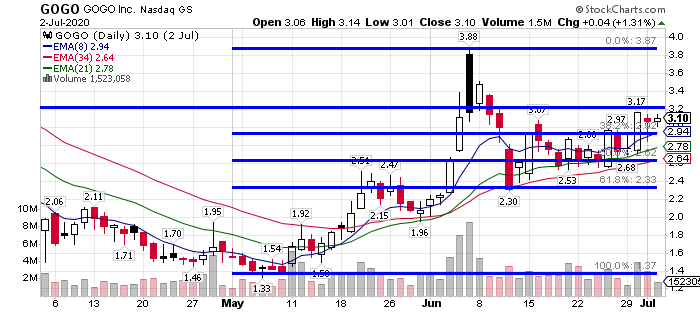 Source: StockCharts
With this pattern, GOGO broke above a key Fibonacci retracement level, and if it gets above the $3.20 – $3.25 area… I believe the $4 level may be in play.
Now, on the hourly chart, GOGO is forming a bull flag / pennant pattern.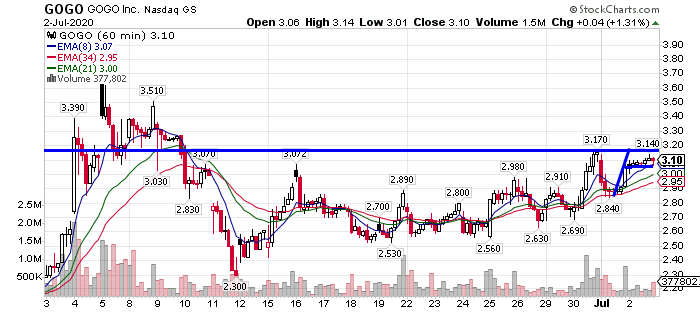 Source: StockCharts
On Thursday, it closed within that consolidation area, and I wouldn't be surprised if it breaks out soon.
You see, GOGO only has 52.07M shares floating.
Of those 52.07M shares floating, 45.73% are short.
In other words, it's a "hated" name on the street.
That's why this play is so interesting to me.
With a high short interest, that can actually cause a potential squeeze. Since this would be considered a low float stock, in my opinion, if the demand kicks up…
There's not a whole lot of supply.
If you remember from an economics class, if demand exceeds supply… prices go up.
Now, since there is also a high short interest, if the stock actually runs higher…
The shorts may want to cover. In turn, that further increases the demand for the stock… and the price should go up as well.
This actually creates a scenario in which GOGO can pop fairly quickly, in my opinion.
GOGO shares are up 18.32% over the last month, and 64.02% over the last quarter… and it can continue to build that momentum off the backs of the recent news.
Will GOGO provide another update soon?
Who knows.
But the patterns tell me this should be on my watchlist.
Now, if you want to learn more about my "part-time" momentum trading strategy… and my techniques to hunt down stocks poised to move…