Stocks suffered their worst day since the "Black Monday" crash of 1987… and it doesn't look like the road to recovery will be swift. The Federal Reserve has tried its best to support the economy in these tough times — lowering rates and rebooting quantitative easing again.
If you've been having trouble in this environment, don't beat yourself up. It's time to take a step back and figure out what's working in this wacky market currently.
For me, that means being on the hunt and trading like a sniper… waiting for high-probability setups — momentum patterns in small- and mid-caps (mainly small-caps right now). You see, at these levels, large-cap stocks are those that will be most affected by the overall market. 
On the other hand, there are small-caps out there that are exhibiting scalable and repeatable patterns. I want to prove to you that trading small-cap stocks could provide high-probability setups — as I walk you through two setups in Blue Apron (APRN) and Glu Mobile (GLUU), and how I was able to lock in $14K yesterday.
With the whole coronavirus and quarantine across multiple states in the U.S, consumers are stuck at home… and the other night, my wife Pamela turned on our Hello Fresh account again. You see, there are concerns about store shelves being wiped out… but these meal kit companies should be stocked up and ready to go.
I pulled up my screener and saw Blue Apron (APRN)… and it was up huge. Of course, I watched for dips and looked in the upper $2's for entry — as I believed the stock had range to $4.
The thing is, with momentum stocks… sometimes, we have to adjust our parameters and develop a new plan. You see, I didn't think APRN could get back to the high $2 area, so I adjusted the new area to watch.
All I had to do was wait for my pattern to show up.
The Play By Play In APRN
Here's a look at the actual play by play…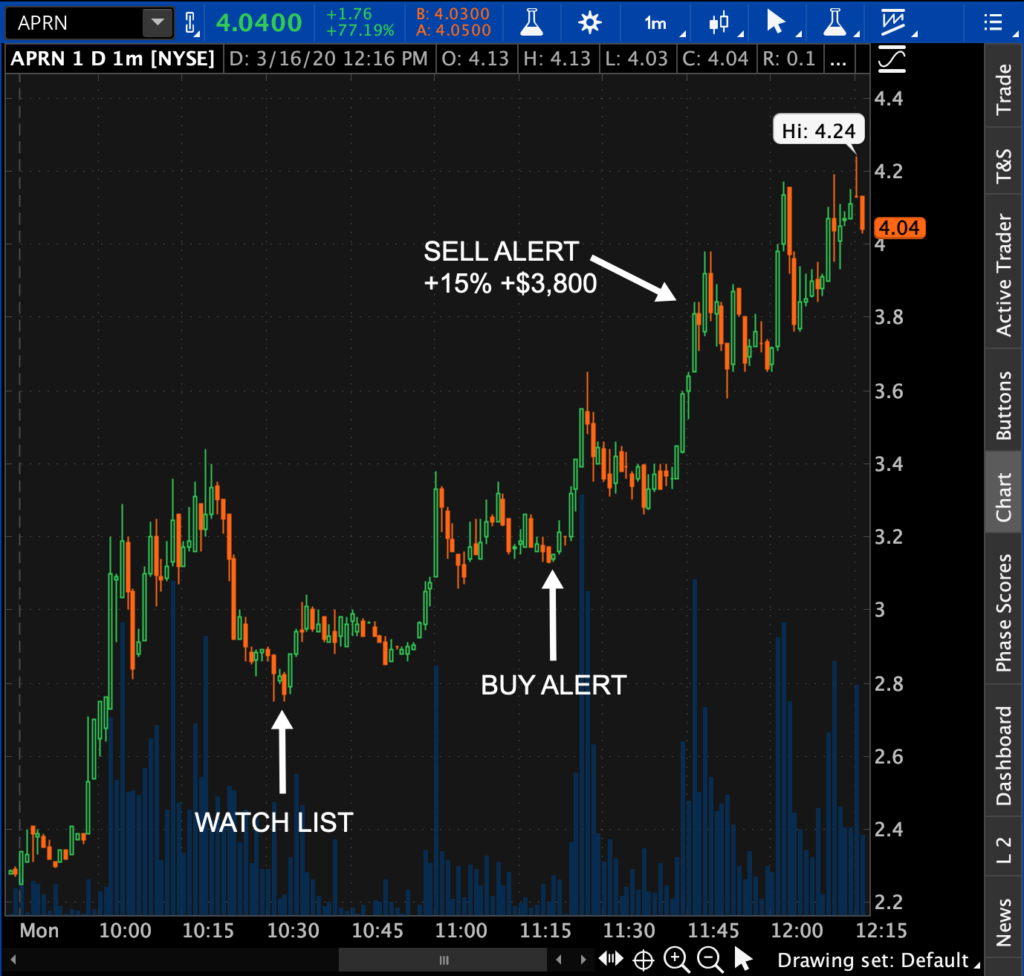 If this is unclear to you at first, don't worry. I'll walk you through it. I put APRN on my watchlist and alerted my clients, but I missed the entry… I had to readjust, and then I waited for the right area to buy. 
If you look at where I bought APRN… it wasn't just a random area. In fact, it was based on one of my favorite patterns: the bull pennant.
Right exactly where I want to be when it comes to flags and pennants. Basically, I want to wait for an explosive move, followed by an area of consolidation (choppy price action between to levels). In other words, I want to buy when it's within the "flag" or "pennant" portion of the pattern.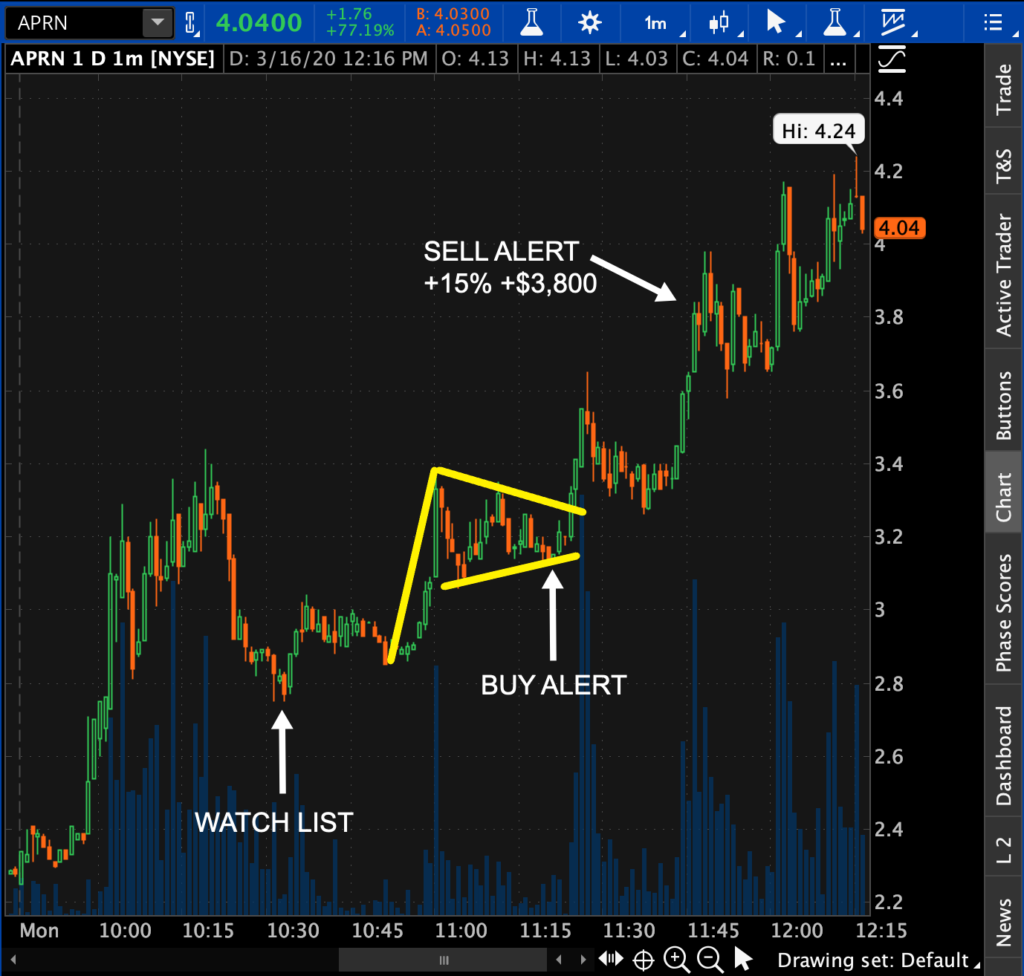 So I bought 7,000 shares of APRN at $3.26, and looked for a 5-10% move the same day, or overnight. I wasn't looking for a whole lot here…
…and if you look at the chart, you could see my plan worked out perfectly.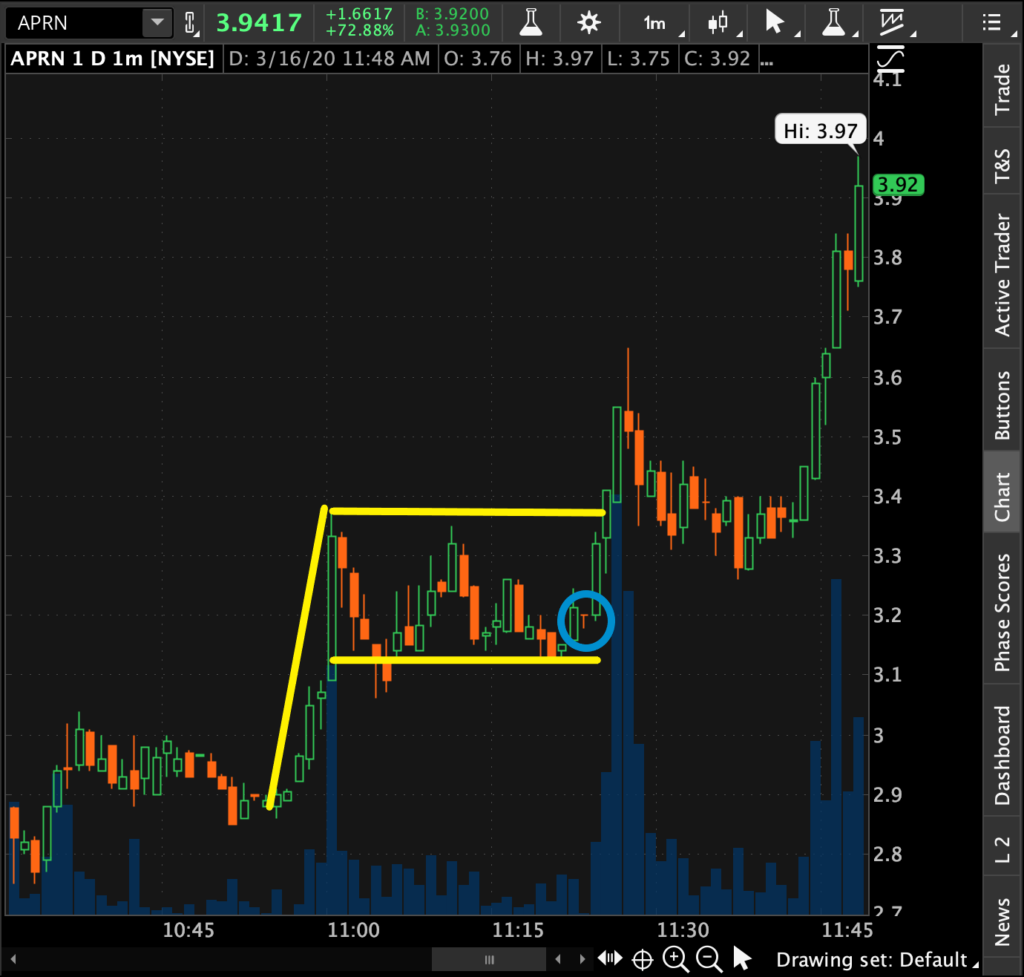 I bought shares in the blue encircled area in the chart above… and I took profits just about 30 minutes later!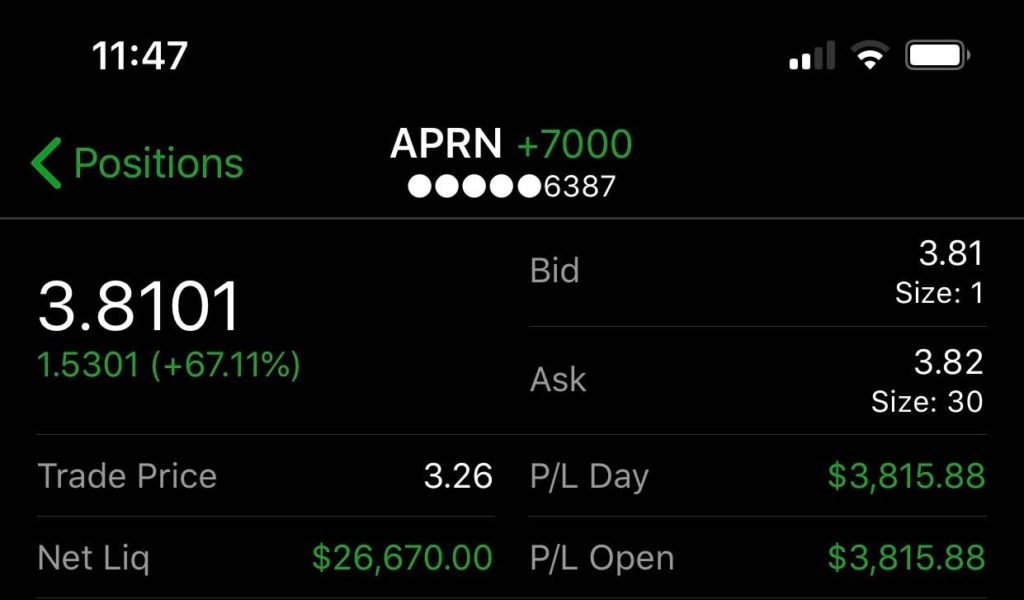 The thing is… I've been trading small-cap momentum stocks for years, and a stock that's up more than 60% isn't just going to settle down (from experience). Sure the stock could pull back, but if it's closing strong, it has the potential to gap up.
So I kept it on my radar.
Not too long after I took profits, APRN actually came back into $3 area and started rounding, in the low $3's. I wanted to get back into the stock around the $3.30s…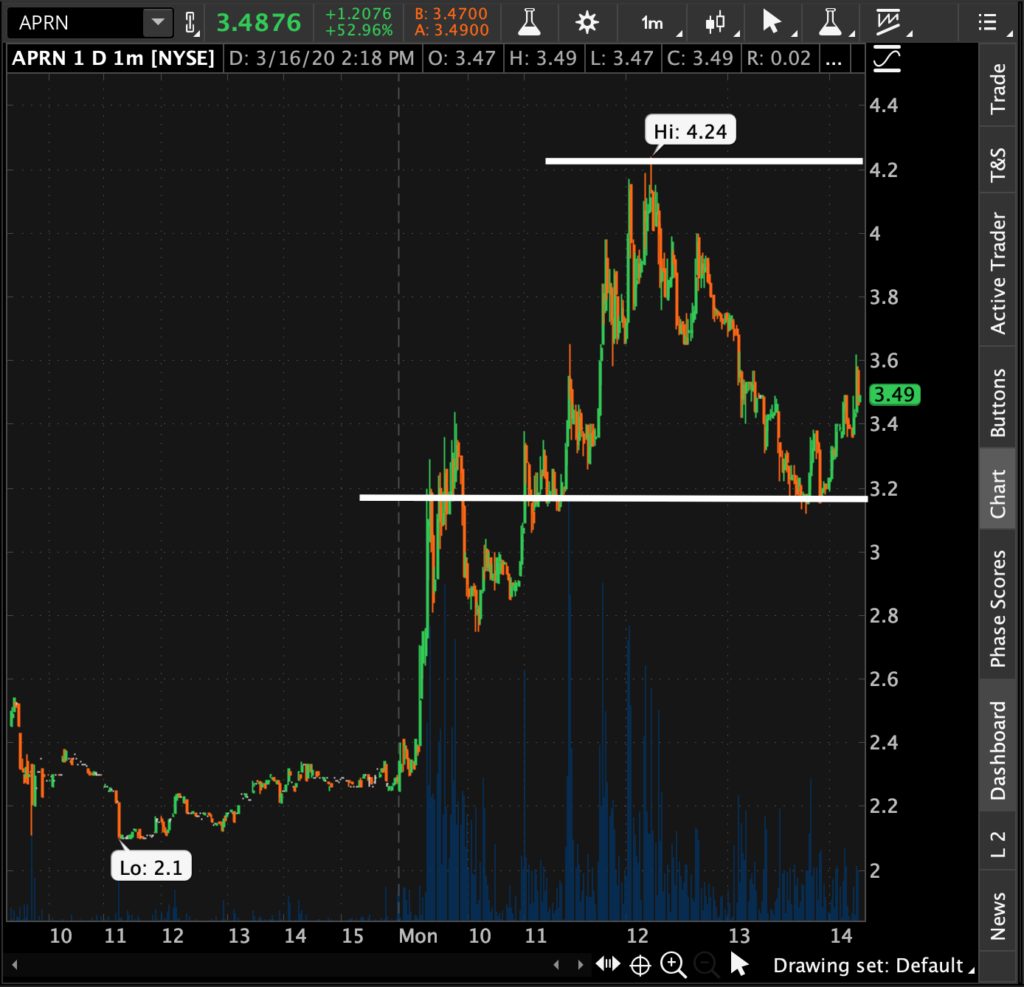 At 2:43 PM EST yesterday, I re-entered APRN because it got right to my entry at $3.34. I figured I could juice 10% out of it in the final trading hour, and depending on how the pattern looked into the close… I would consider holding it overnight.
Well, shortly after, APRN got to $3.89 — I decided to take half of my position off the table and locked down about $1,400 in profits. I wanted to ride the other half overnight, as I believed the stock could get above $4.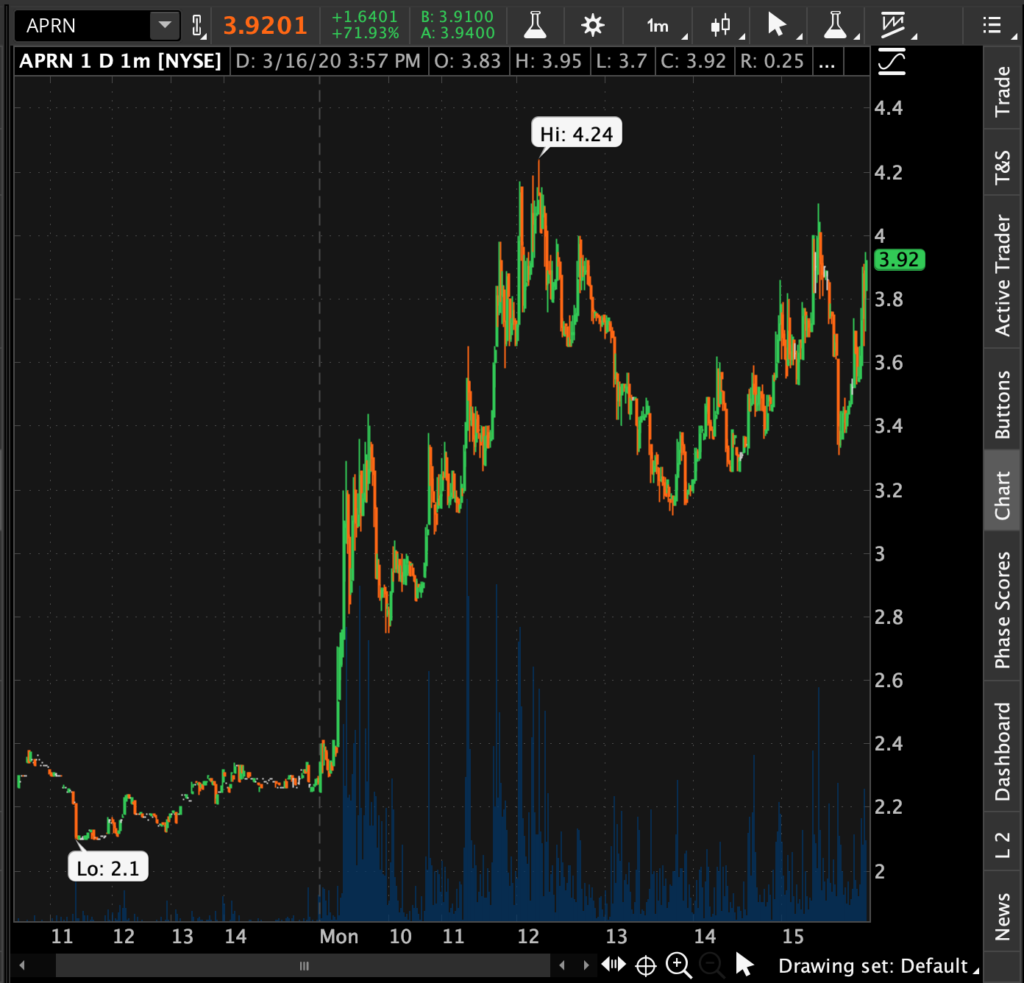 Now, in the after-hours… APRN was actually squeezing higher.
So what did I do?
I sprinkled orders further out making shorts cover into my size, or come to me. Remember they are the ones being pressured in a squeeze, no need to let them off easy by hitting the bid.
In the after-hours, shares hit $4.72, while I was in the backyard hooking up my waterfalls.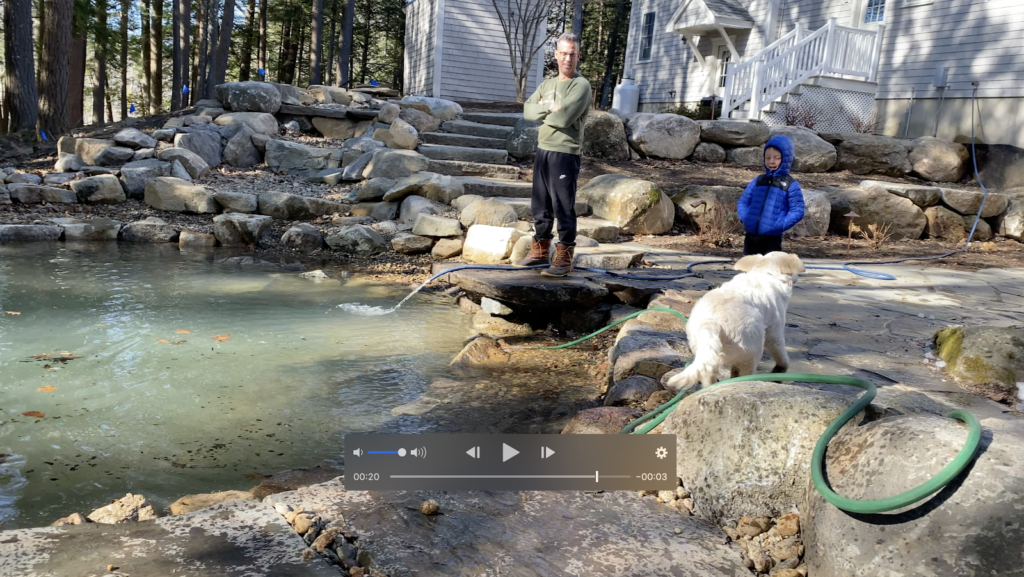 I had a limit order to sell a quarter of my initial position or 1,250 shares at $4.54 which got triggered and I locked down about 35% in returns in just a matter of hours.
For my last quarter, I had a limit order to sell at $4.90…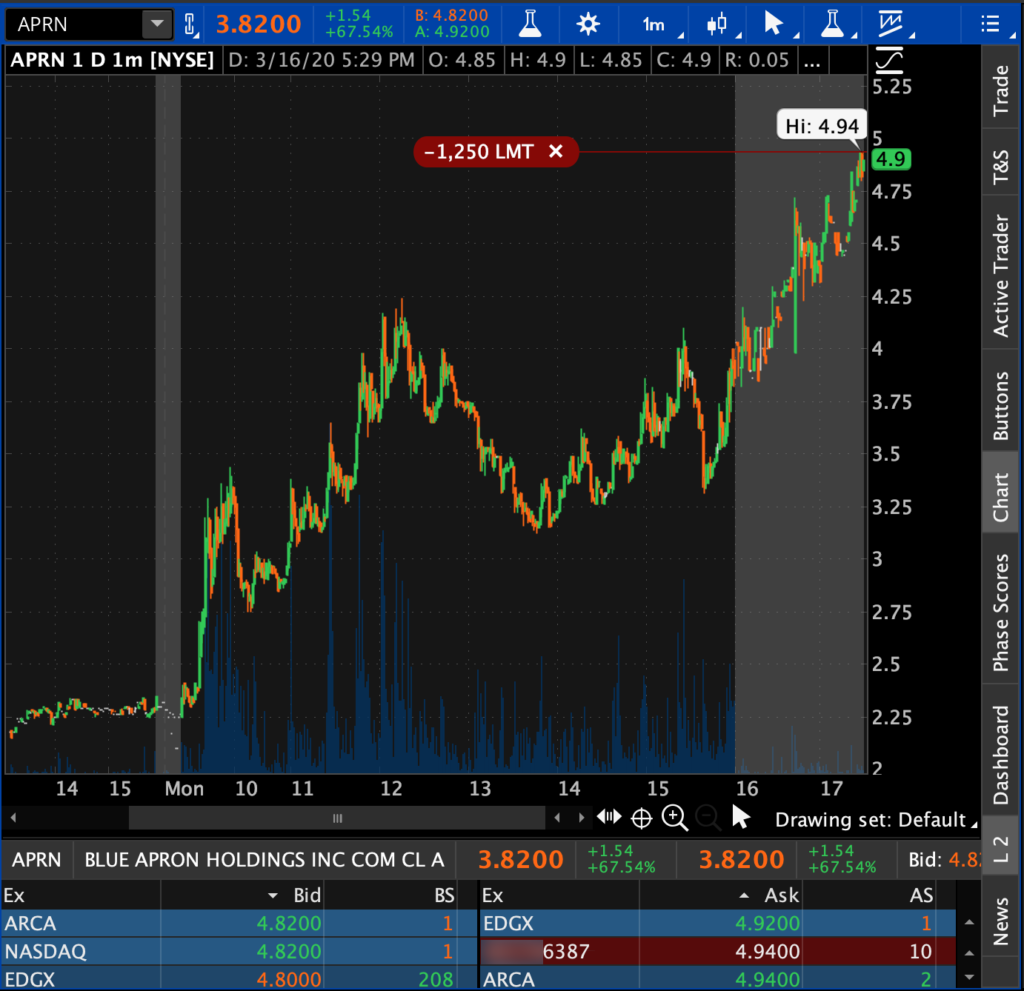 That order got hit, and in total, I came out with $8,235 in real money profits in just APRN alone!
However, that wasn't my only winner yesterday… all while the market tanked and had one of its worst days ever. In fact, I used another one of my favorite patterns to lock down a $5,800 winner in GLUU.
Another Winner In The Books
When the market experiences violent selloffs, some names get swept up with the tide and get put underwater. This is where I'm able to find momentum trading opportunities as well.
Oversold names are a dime a dozen now… so when I look for potential trades, I'm on the hunt for the best "oversold" stocks to scoop up. Glu Mobile (GLUU) was on the top of my radar.
Why?
It's a mobile gaming company, and I figured they should perform well in this environment. GLUU opened at around $4 because I figured this was a good support area.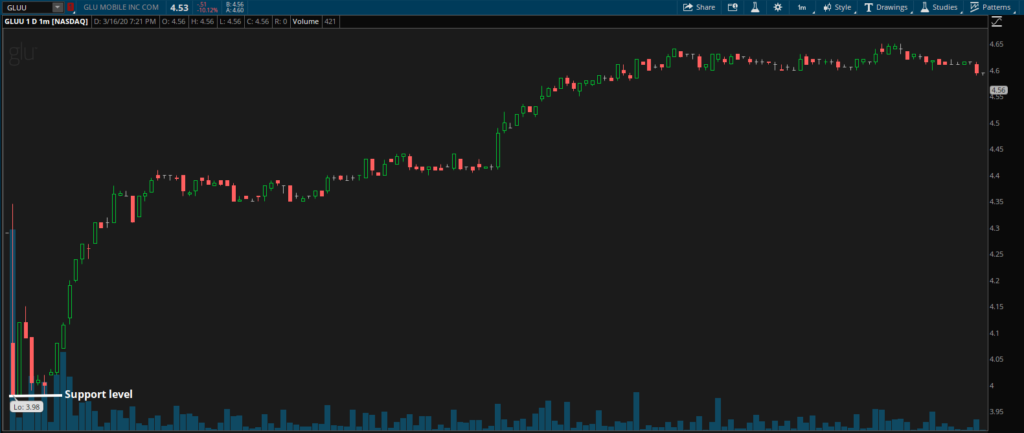 So I took a shot right around that level. On the 1-minute chart, you'll notice a bit of a fish hook. That said, I picked up shares at $4.01.
If you look at what happened in the chart shortly after the stock found a bottom… it recovered and got a push from the overall market bounce (before things took a turn and ended on a low point).
In under 2 hours, I was able to lock in a winner! I sold GLUU at $4.58 — about 15% in profits or approximately $5,800.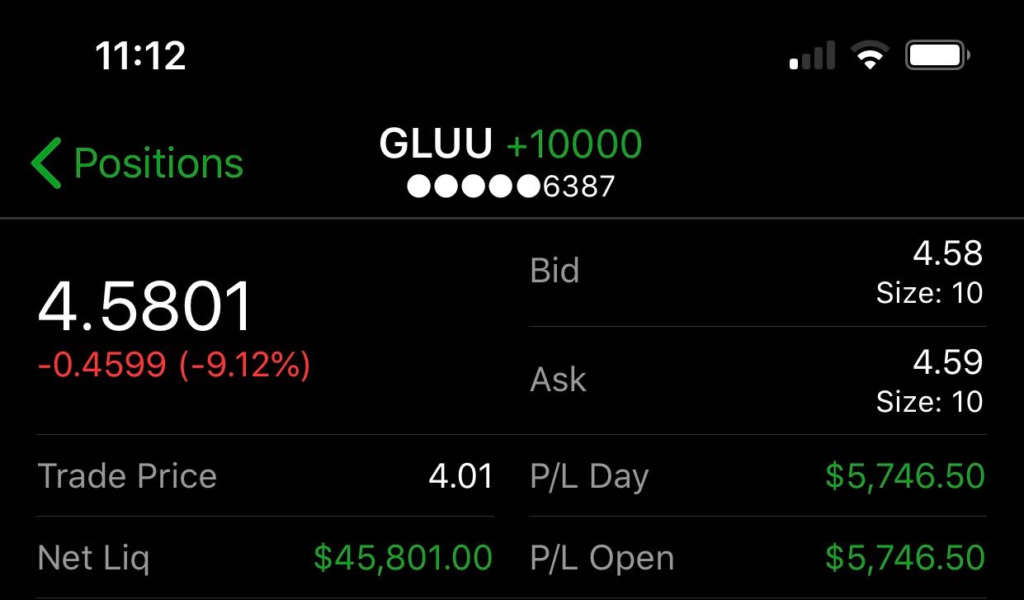 Pretty simple, when it comes to hunting down momentum… right?
I'm going to stick to my guns and only focus on my bread-and-butter momentum patterns. If you've been struggling in this market environment, check out this exclusive training session on my favorite chart patterns… and see how my strategy could provide you with benefits in this mess of a market.