Happy Monday Everyone!
The so-called Meme stocks – with AMC and GME being two absolute superstars – gave incredible opportunities both ways…
Then there was the small cap action: MEDS, LEDS, AMST are just a few out of many!
I often say – stick to what's working. 
Momentum names have so far not shown any signs of exhaustion, so why would I reinvent the wheel?
Here're 3 small cap stocks I'm keeping on my watch this week: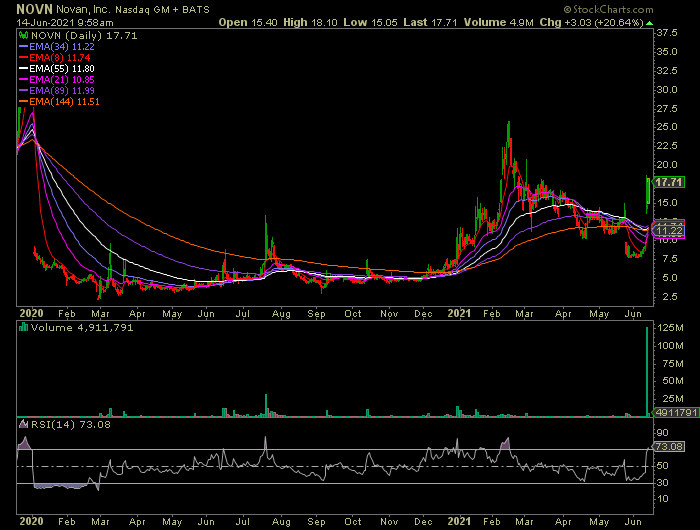 Market Cap:

137.11M

Free Floating Shares:

14.07M

Short Interest:

2.18%

ATR:

1.72
Summary: After a major crash following a disappointing trial in early 2020, NOVN, a biotech stock, has lived a life relatively obscure and forgotten. 
There was an attempt at a run up in February – March, but that didn't really lead anywhere either. 
All of this changed last week – the company put out promising updates on 2 of its ongoing trials: Phase 3 trial for treatment of Molluscum Contagiosum and Phase 2 trial for treatment of COVID-19. 
This could be what I like to call a "changing fundamentals" trade. The name speaks for itself – a new piece of information comes out that gets investors excited about the company. I also like the fact the stock just had a 1:10 stock split, reducing the number of shares in circulation. 
The action will likely be wild – to consider a long, I'd like to see clear support above $17 for a potential move into $25. 
Vinco Ventures – BBIG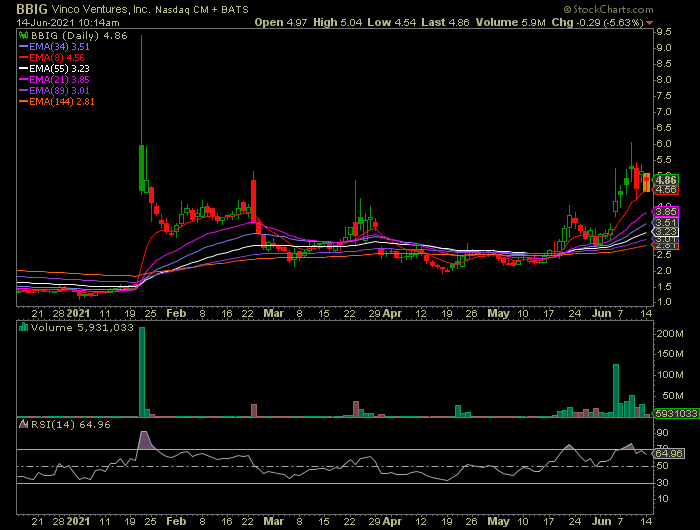 Market Cap:

129.11M

Free Floating Shares:

19.08M

Short Interest:

23.92%

ATR:

0.63
Summary: I've been keeping the name on my watchlist ever since the incredible move in early January: the stock jumped from ~$1.5 to a high of nearly $10 in a matter of 1 day. It's given most of it back, but gained some traction over the past 2 weeks.
The company has historically been pretty active putting out PRs – coupled with its short interest and current position on chart, this can be one explosive combination. 
I don't want to get ahead of myself and need confirmation first – if the stock holds the $4.5 area well, I would consider a long position for a move into the $7 area. 
TRxADE Health – MEDS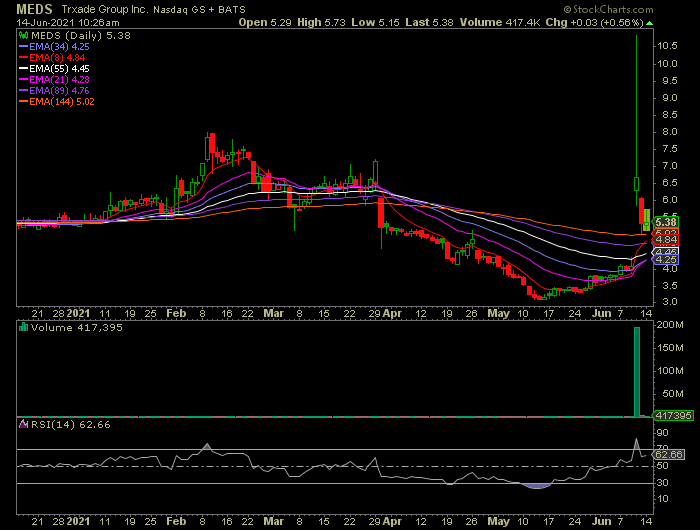 Market Cap:

54.20M

Free Floating Shares:

3.28M

Short Interest:

0.1% –

likely, inaccurate given last week's action

ATR:

0.76
Summary: Similarly to NOVN, MEDS is a name that likely hasn't been on many watchlists. 
Last week the company announced it's COVID-19 Health Passport App and it sent shares ecstatic – from $4 to a high of $10.82 in a matter of one session. 
While one may argue how significant the news is, I do need to go by price action – the stock has retraced a lot of its gains very quickly and I won't be surprised to see at least a bounce from current levels. 
I like any hold above $5 and then above $5.50 to consider a long trade against these levels with a target at $7. 
Pro Tip: Confirmation is Key
Even if this is the very first time you're seeing a watchlist by me, you might've noticed common language between all three picks – to consider a trade I want a stock to "hold above" a key level. 
In trading we call this "confirmation" – the key decision making component that may convert a name from one of the many you're watching into an actual trade. 
Confirmation "validates" your thesis. 
If you would like to go long – seeing all dips get bought and a stock hold a support area cleanly may "Confirm" to you that there is significant demand
Conversely, if you want to be short – failure to hold higher and continuous push backs from a resistance area may rightfully confirm there's overhead supply. 
Patiently waiting for confirmation vs entering just because something looks good – is one of the keys to becoming a skilled trader.