Happy Monday everyone!
The market's been good and it has shown me no sign of slowing down…
Over the prior week, momentum names have definitely been one area of focus in 2021, and rightfully so – we've had a few really impressive run-ups!
Well, I'm gonna stick to what works until it gives me a reason not to.
Without further ado, here are two names I'm keeping on my watch this week: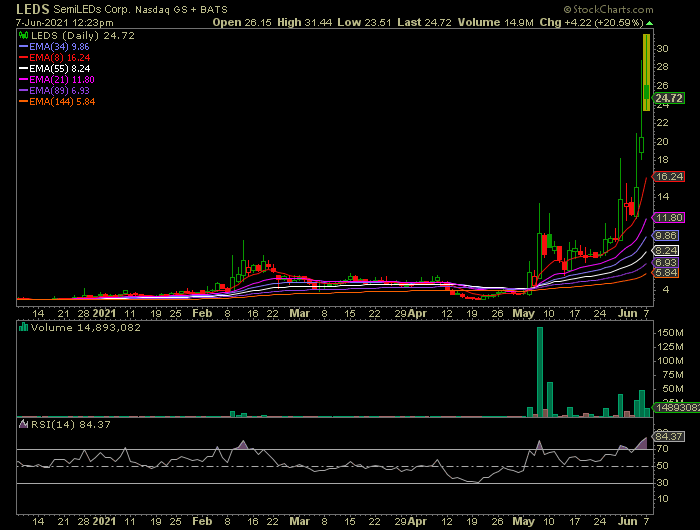 Market Cap:

61.30M

Free Floating Shares:

2.42M

Short Interest:

23.05%

ATR:

3.63
Summary: Those of you  who have been following my lessons would know it's been quite a week for LEDS and for me trading it…
To sum it up – it's been a more or less textbook high short-interest name that "didn't want to go down". So up it went. 
I'm not advocating buying at these levels and I'm strongly against FOMO chasing, but given how violent squeeze moves have been lately, I wouldn't be surprised to see more opportunities on the long side.
I might get involved very cautiously and very small sized if the $27 area starts firming up. My line in the sand would be $24 and my target area is above $37. 
Cassava Sciences – SAVA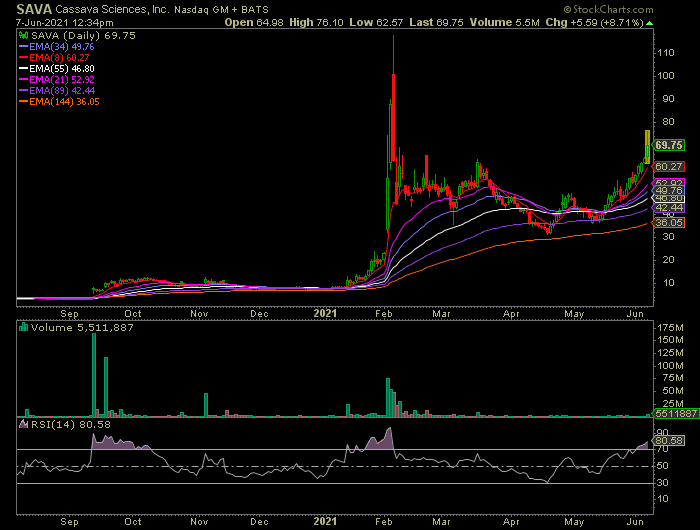 Market Cap:

2.48B

Free Floating Shares:

37.4M

Short Interest:

9.3%

ATR:

4.20
Summary: Cassava is a biotechnology company that develops treatments for neurodegenerative conditions. As a teaching point, early stage biotech companies are often priced fairly cheap – investors want to see improved odds before they commit large capital – thus,  if and when a drug candidate shows potential, its stock may skyrocket. 
This was exactly the case with SAVA back in February, when it went from ~$10 to $117 in a matter of 8 trading sessions on a promising trial result readout. 
Needless to say, a short squeeze played a role in the move. 
I like many things about this setup, one of the bigger selling points being how well it's held since the original up move. Over the past few weeks, SAVA has definitely gained some traction and momentum, having nearly doubled. 
It maintains good short interest and is breaking out above the major $65 area on the chart. I'd like to see some confirmation consolidation form above $65 for an extension trade into $90-$100. 
Honorable mention: Ford Motor Company – FORD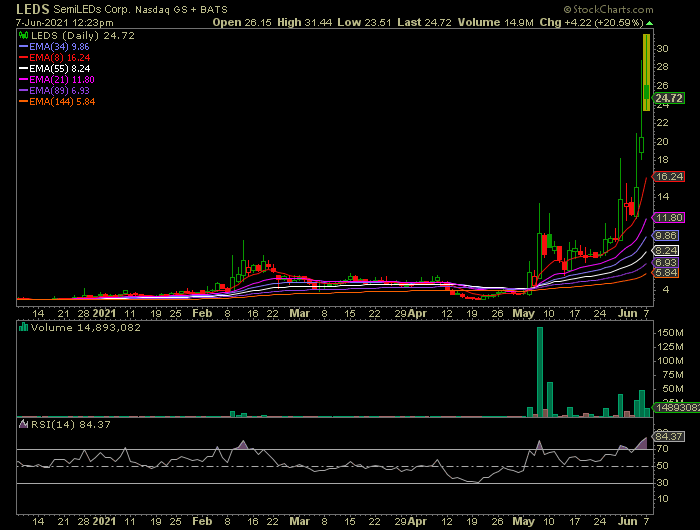 Market Cap:

62.69B

Free Floating Shares:

3.84BM

Short Interest:

1.71%

ATR:

0.57
Summary: Here are my exact words from the last week's watchlist sent to paid-up subscribers:
That didn't turn out too shabby, did it?
See, this is the beauty of momentum: if there's enough excitement and buzz about the stock, it doesn't have to be a small cap or a short squeezer. 
At times, even the Ford Motors itself – a name few traders have ever expected to actively trade – can steadily march higher with no end in sight.
I see no reason to stand in its way. I like F for the same reasons I liked it last week – if the $14.8-$15 area consolidates and holds, I'll be watching it closely for a move higher.