Although I thrive when there are dips in the overall market when it comes to options trading, I'm going to remain a bit more patient before I start throwing down some trades in large-caps.
You see, the trick is to not get too excited too early in the pullback if I want to put money behind attractive risk-reward trades.
However, that doesn't mean there isn't opportunity out there.
I thought now was the perfect time to look at some of the questions I've received from traders, and there's one question on probably everyone's minds… where do you see the most opportunities?
Well, some of the hottest stocks in the market are in my favorite area…
Small-Cap Momentum
Just take a look at some of the top gainers on my Momentum Hunter Scanner today.

I wouldn't be doing my job if I didn't show you other techniques I'm using to attack the market.
That being said, I believe momentum stocks will continue to be hot — and I want to give you an inside look at the strategy I've been teaching to traders for the last 10 years.
To be quite honest with you, when it comes to uncovering the hottest stocks out there — it's pretty simple for me.
I identify my favorite chart patterns and catalysts on the table.
I know what you're probably wondering…
Jason, how can I possibly look at thousands of stocks and catalysts? That's like looking for a needle in the haystack.
Well, for me, on a day to day basis, it's as simple as filtering for some of the top gainers on the day and just looking at those chart patterns.

For example, Cars.com Inc. (CARS) was one stock that popped up on the Momentum Hunter Scanner.
Well, there was a catalyst in the stock after the company provided preliminary third-quarter results and caught analyst upgrades after.
So that's a catalyst right there. With earnings coming up on Nov. 4, it could see a runup and that's why I want to keep it on the radar.
Now, let's look at the chart.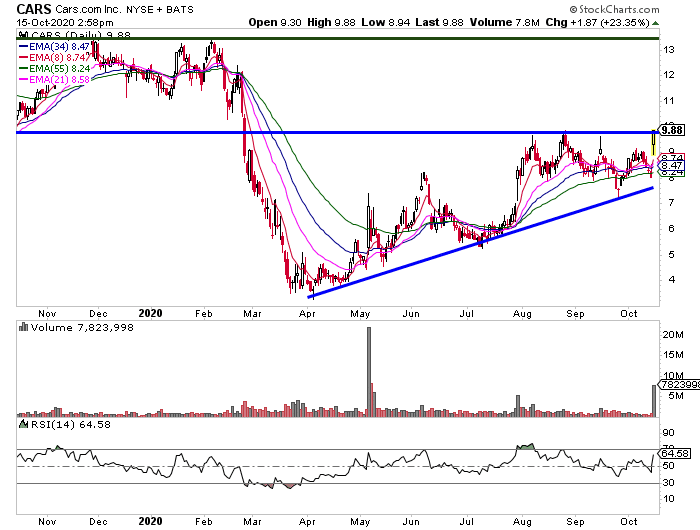 It's got a massive ascending triangle forming and is just starting to break out. If the stock stays above $10, I wouldn't be surprised if this stock takes off and tries to get back to its highs.
You see, there are only about 66M shares floating. In other words, only about 66M shares available to trade. If the demand picks up for this stock, it can see some quick pops in my opinion.
That pattern typically indicates a breakout is in the cards, and I want to keep this stock on my radar. If I make a move, I'll be sure to let my subscribers know.
Listen, for me, these techniques only take a few minutes to uncover the next hot small-cap momentum stock.
While I want to show you some of my best techniques today, I need to bring your attention to something urgent.
There's a rare catalyst event on the table, and in the coming days, I'm set to announce my #1 highest conviction trade idea.
It's in a stock with my favorite setup and it's already starting to make a move. Any moment now, I'm set to announce this trade and put $100K of my own real money into this low-priced stock.
If you know anything about small-cap momentum stocks, you'll know they move fast… and this is one rare opportunity for me to get into this stock before it takes off.
The only way you can gain access to this VIP event is if you join Jason Bond Picks Stocks.
Not only will you be able to watch me put my hard-earned money behind this stock, but you'll also discover how I uncovered it…