As my trading evolved in 2020, I wanted to show you everything and everything I learned about options. 
Since you've been subscribed to Weekly Windfalls, I've mainly talked about using options spread to attack the market and how I stack the odds to my favor.
I've added a wrinkle to my gain, and that's directional trades on mid-, large- and mega-cap momentum stocks.
That's why I'm revamping Weekly Windfalls, and it'll be now known as The Options Wire. Don't worry, there's nothing you need to do on your end. 
Just expect more lessons on some of my favorite techniques, and more trade ideas.
That being said, I want to show you some stocks on my radar and what I'm doing to remain focused in this environment.
I've outlined some specific rules for my trading.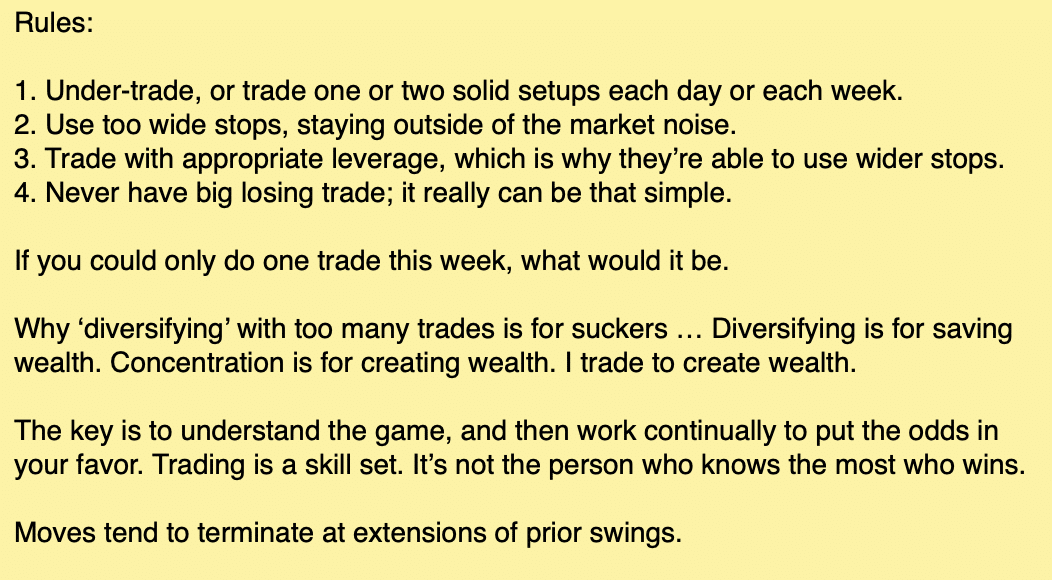 In this market environment, it's important to remain nimble and have guidelines in my opinion. The rules above are ones I'll try to stick to from now on.
In order to implement these rules, I'll be sticking to my charts because that's where my best plays come from… and focusing on the price action helps me filter out some of the noise.
I am confident my Q4 focus is paying off. By trading less, focusing on only the best setups and following the trend I am seeing the best progress in my portfolio this year. My only goal is to have a strong Q4 and let that propel me into 2021.
That said, I want to show you what plays are on my radar. One play I've come across is in Zoom Communications (ZM).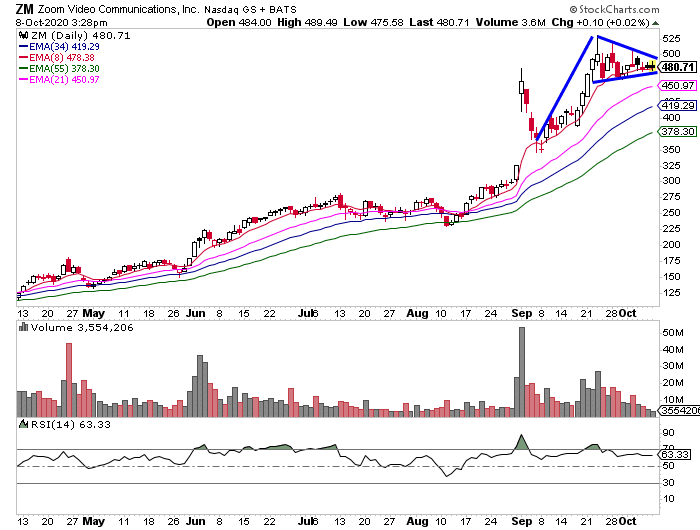 It's got a nice bull pennant / flag setup and it's riding the 8-day exponential moving average (EMA).
I'm waiting for the squeeze (which I'll explain to you in another lesson).
So how I might look to play that is to either purchase ATM or slightly ITM calls expiring say 4-6 weeks from now. I can also look to sell bull puts expiring in say two weeks. It all depends on how much I'm willing to risk and what the price action tells me.
Salesforce (CRM) is another stock that has a nice chart setup.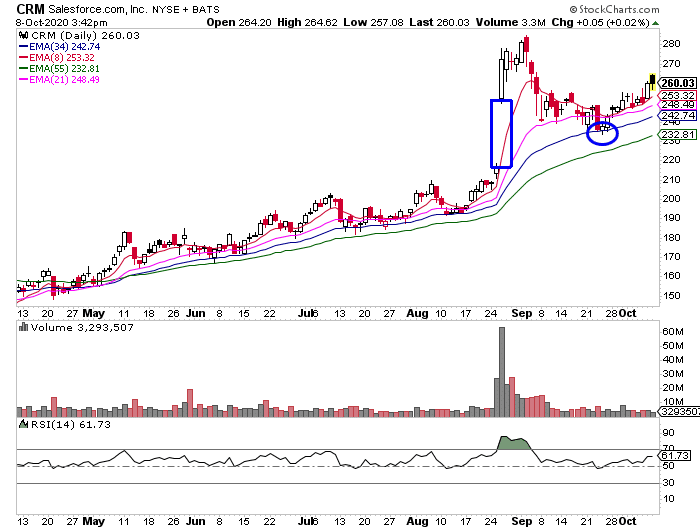 The stock tried to fill the gap, but the demand picked up around the 34 day EMA and that tells me that's a good reference point. The stock is back above the 8- and 21-day EMA, and with momentum building, I wouldn't be surprised if CRM retest highs.
One way I would look to play this action would be to look for calls, or sell a bull put spread.
With an event coming up next week, I'm going to make sure to keep an eye on Apple Inc. (AAPL).