No doubt about it, it's been a pretty wacky market.
In times like these, trying to stay the course and uncovering trade ideas can be pretty difficult…
Especially if you're trading large-cap options as I do.
Heck, earlier in the week, I got a little shook after some market-wide news hit the tape.
However, I used tools and techniques to trade around it and avoid that whole mess. On Friday, I was having one of my best days of 2020.*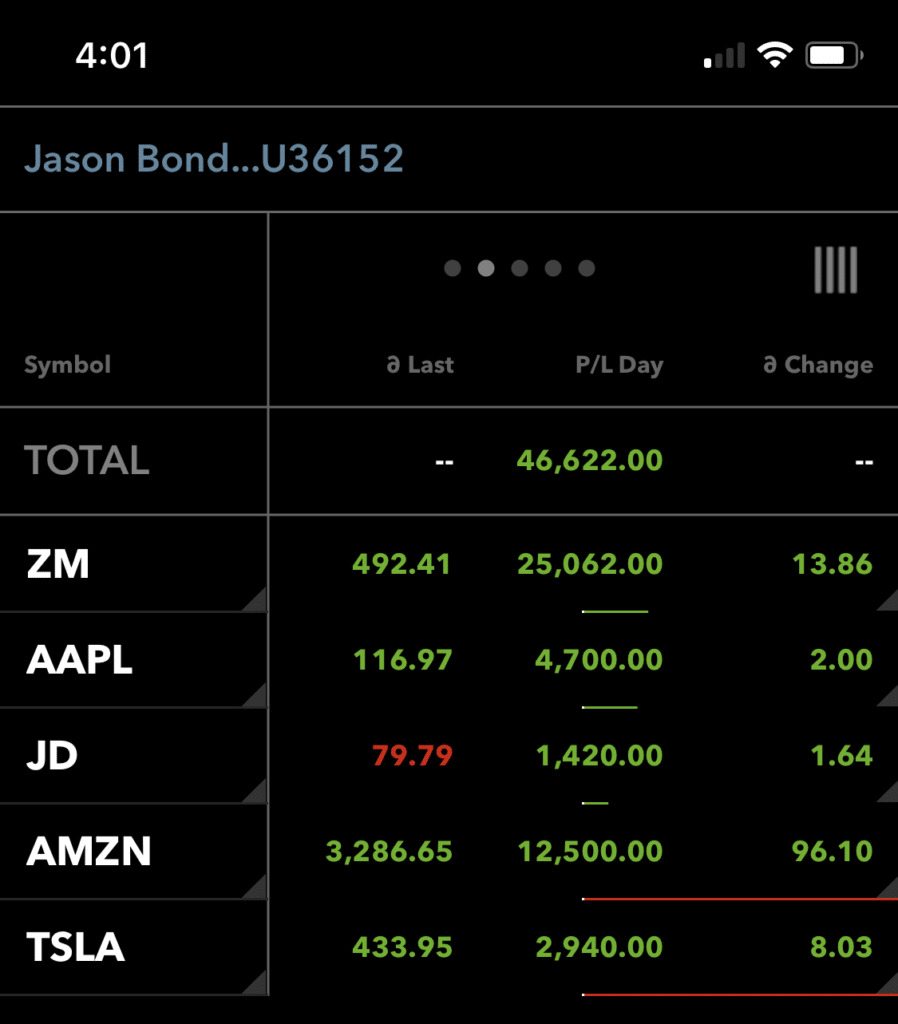 I want to show you what I do to filter out the noise, and uncover plays with attractive risk-reward.
There's so much noise in the market, and often times, it gets hard to figure out which headline holds the most weight.
While I do look at the overall catalysts in the market, I know that not everyone likes to try to figure out what headlines will move stocks.
That's why I want to show you how you can ignore the talking heads and uncover opportunities in large-caps.
How?
You see, following the price action is how I time my entries and exits.
Allow me to show you with one of my favorite indicators, the exponential moving average (EMA).
Here's what I sent out on Wednesday to subscribers.
So U.S. stock futures are stable so far which is a good sign the 8, 21 and 34 EMAs on the QQQ is likely to hold up. It's too early but if I sense the stimulus panic is over, I'll start working back into the trades I had on. I'd be lying if I said I wasn't disappointed about what happened Tuesday. A few days ago Trump called for a deal, then announced putting it on hold, which caught the market by surprise. I was having one of my best days of the year and that $30,000 I was up, basically broke even within that hour. The tick was heavy but again, not much participation in the VIX. I was pretty big in these positions though and not about to let them go red on me, so when the narrative changed, I protected my recent gains. Given my small size in OSTK and JD I opted to keep those since they didn't take on water like the bigger stocks in my portfolio did like AAPL and AMZN.
Now it's too early to know what today will bring but if it's clear the QQQ is stable, I will be getting right back into AAPL, ZM and CRM.
$112.50 on AAPL is my initial focus. A lot will depend on what the QQQ wants to do and I'll move up if it looks stable. Same catalyst here.
ZM keeps riding the 8 EMA so that's the level I'm looking to sell bull puts at waiting for that squeeze.
I want to highlight Zoom Communications (ZM) here.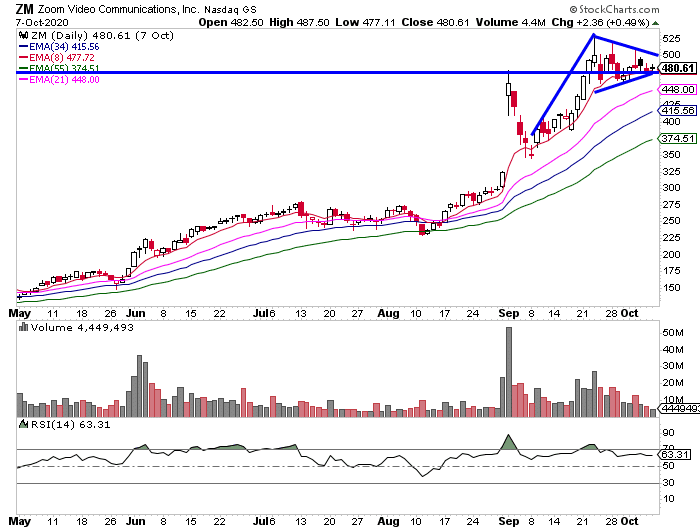 I mentioned ZM was riding the 8-day EMA (the red line in the chart above). I mean since September, that line has held up as support and I didn't really see a reason for a massive move lower.
Not only that, but if you notice…
There's a bull flag / pennant pattern, a pattern I love to use with small-cap stocks that translates extremely well with large-cap momentum plays.
On Wednesday, here's what I sent out to subscribers about my moves.
ZM bull puts. sold oct 9 485 / 480 vertical put spread for 2.25.
On Thursday, I focused on the price action and actually sold another put spread.
added ZM bull puts. sold ZM oct 16 480 / 470 vertical put spread for 4.60. goal is to catch bounce into close and switch out the 485 for tomorrow
On Friday, ZM started to make a move, and now it looks as if it's about to break out from here.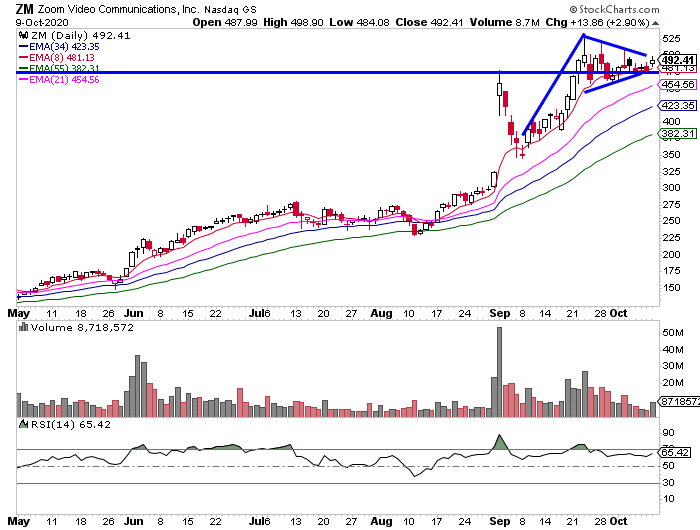 On Friday, I actually closed out the ZM bull puts and locked in a nice winner there.
Keep in mind, I'm still in the position with the expiration date on Oct. 16.
Listen, chart patterns and following price action are working for me right now.
That's why I put together this Chart Patterns Cheat Sheet, so you can find out what my favorite setups are and how you can utilize them to uncover hot trade ideas.
*Results presented are not typical and may vary from person to person. Please see our disclaimer here: ragingbull.com/disclaimer