Stocks have been pretty choppy at these levels and in times like these, it's important to remain patient and only focus on your best ideas, in my opinion.
That doesn't mean I'm gun shy at all, I'm only taking trades in which I have an edge.
With an upcoming election and no new stimulus on the table yet, I think volatility is only going to pick up. Not only that, but corporate earnings will be the main focus in the coming weeks as well.
With earnings season kicking into high gear next week, I believe that'll be a catalyst I can take advantage of. More specifically, I want to look to place bull puts on gap downs, as well as stocks that explode more than the street expects.
To uncover these trade ideas, I'll look at the earnings release, as well as the price action.
That said, I want to prep you for the coming week and show you which stocks I've got on my radar and key levels to watch in them.
Here's a look at just some of the earnings that will be reported…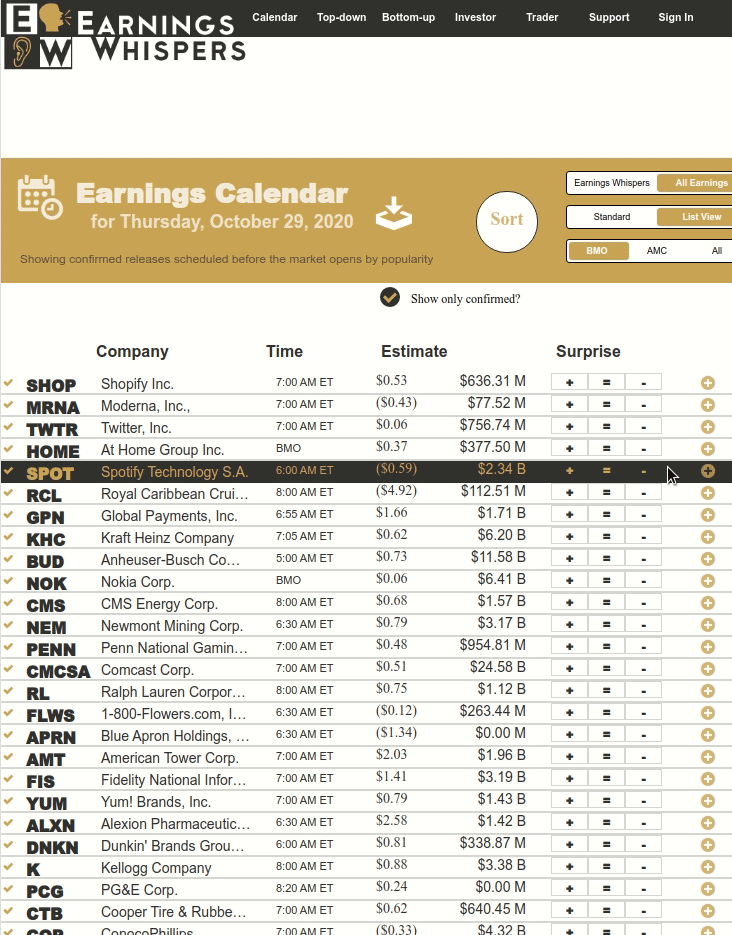 For some traders, this will be their bread-and-butter and it can potentially dictate where specific sectors will move… which can trickle into the market.
Of course, it's important to be careful around earnings. However, once the news is out and the volatility settles, that's my opportunity to pounce.
For example, Apple (AAPL) is expected to report earnings on Thursday after the close. So I would look to see what the company reports (iPhone sales will be a focus here). The key for me would be to look at the price action.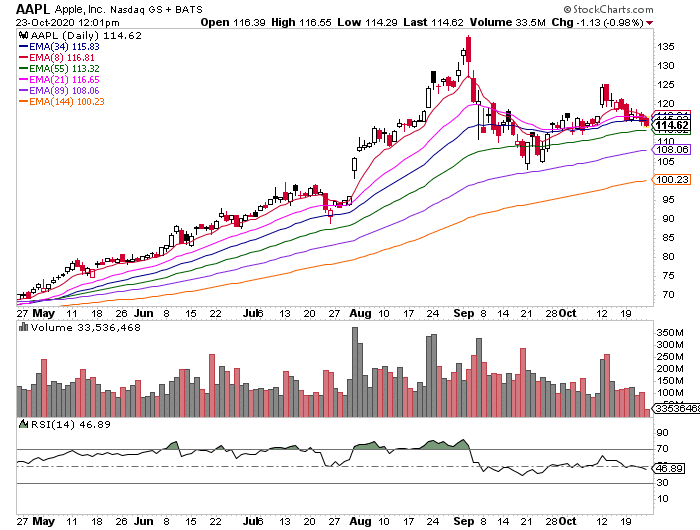 For the most part, stocks have been respecting key exponential moving averages (EMAs), which lets me know where the support levels are. In turn, I'll know where buyers are likely to step in.
So with AAPL, I'm looking at the 89-day EMA, right around $108. Not only that, but I'll be focused on the 144-day EMA, which is just at $100 (a key inflection point). That's if AAPL disappoints the street and starts to sell off.
On the flip side, if AAPL takes off, I'll want to look at the 8-, 21-, 34-day EMAs.
You see, I can use those areas to look for prices in which it can be advantageous for me to take advantage of the volatility crush.
To execute this, I would look to utilize bull puts. That means I'll sell a put spread to take advantage of a potential drop in volatility.
Over the weekend, I want to show you three trade ideas with earnings, so make sure you look out for the e-letter.
WE MAY HOLD SECURITIES DISCUSSED. RagingBull has not been paid directly or indirectly by the issuer of any security mentioned in the Services. However, Ragingbull.com, LLC, its owners, and its employees may purchase, sell, or hold long or short positions in securities of the companies mentioned in this communication.