This week is going to be filled with action. Here are just a few of the catalysts I'm keeping my eye on.
Corporate earnings will be in focus, as Facebook (FB), Amazon (AMZN), Apple (AAPL), and Alphabet (GOOGL) report earnings.

The last week of campaigns ahead of the election.

Potential stimulus talks this week.

Rising rates of cases I'd like to see how the market reacts to Gilead Sciences' approval of its treatment.
Of course, with all this uncertainty in the market — some traders will be on the defense.
But you know what they say… the best defense is offense.That means I'll be on the hunt for momentum trading opportunities.
This week, I've got my eyes on three small-cap momentum stocks because some of my favorite patterns popped up in them.
When it comes to hunting down momentum trading opportunities, I love to look at the momentum hunterscanner for ideas. For the most part, I want to look for stocks that have moved, which might signal another pop in the following trading day, or week.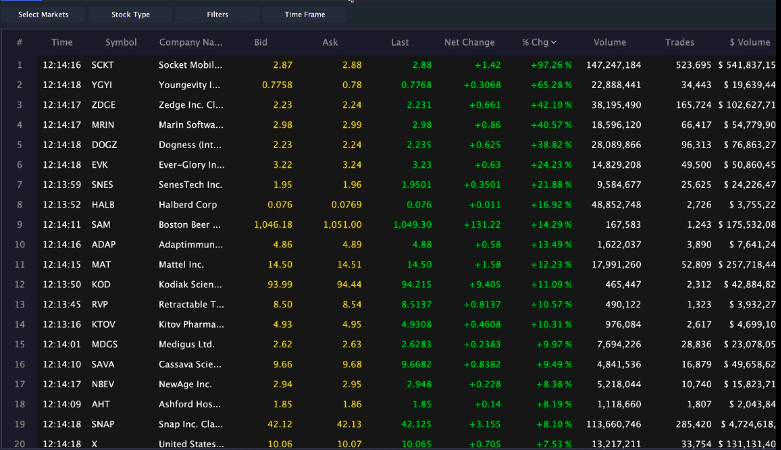 One stock that looks interesting is NewAge Inc. (NBEV). Now, Boston Beer (SAM) actually exploded on Friday and finished the day up nearly 19%. The company ran to a new all-time higher after it raised guidance, and I think that's why NBEV caught a pop too.
Now, that momentum might continue this week. However, with these small-cap plays, it's important to focus on the price action, in my opinion.
With NBEV, I'm going to keep an eye on the Fibonacci retracement levels.
Now, if the stock pulls back, there are key areas for an entry. The $2.57, $2.37 and $2.17 areas all are in play, as they may be support levels. If NBEV finds support, then I think the stock could take out recent highs.
On the flip side, if NBEV starts to consolidate near highs, that would be another bullish setup (the bull flag / pennant pattern). It's important to remain patient and see what this stock does come tomorrow, so I've got it on my radar.
Next up, there's Zedge Inc. (ZDGE).
After the company announced an increase in paid subscribers, a jump in the top and bottom-line, this stock finished the day higher by more than 60% on Friday.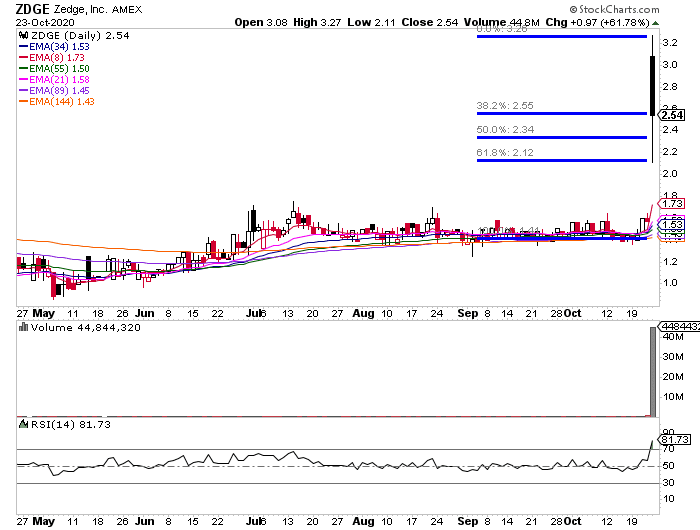 With ZDGE, the Fibonacci retracement levels are in play. I've got my eye on the 38.2%, 50% and 61.8% levels, which are $2.55, $2.34 and $2.12, respectively.
Since this stock is a low float, if the demand picks up, I wouldn't be surprised if it gains momentum and takes out the high around $3.20.
Last up, there's Nano Dimension (NNDM).
Although the stock didn't come up on the momentum hunter scanner, this is one stock that's forming a bull flag / pennant.
With the recent pop in 3D-printing stocks, I believe that sector will be in play, and NNDM can get pulled up by its peers.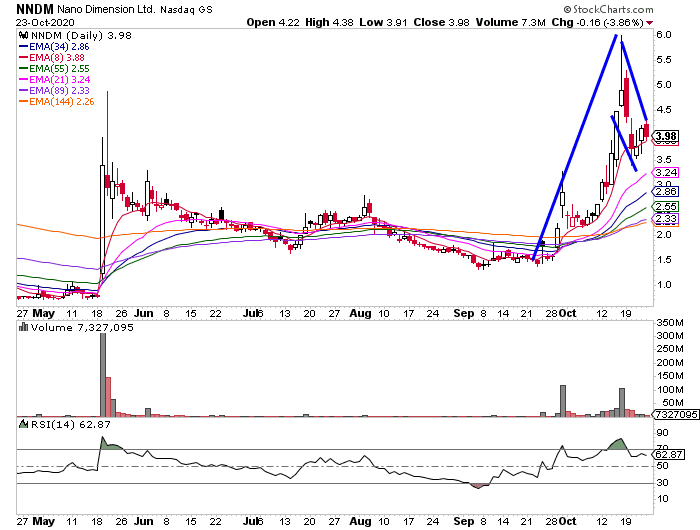 Since NNDM held the $3.50 area, which just so happens to be the 50% Fibonacci retracement level, I want to see what the stock does around $3.50 – $4.00. If it starts to break out of the flag (consolidation area), then I think NNDM has a shot at breaking above $5.
There are plenty of momentum trading opportunities out there, and I want to teach you how to find them. That's why I wrote Momentum Hunter, so you can learn how I identify my scalable and reliable patterns to attack the market.
It's yours, absolutely free. All you have to do is click here and enter your information, so we can send you an eCopy.