Groupon Inc (GRPN) has been one of the hottest momentum stocks over the last few sessions after the company surprised earnings estimates.
It's up more than 50% over the last five sessions, and this momentum can continue.
I actually traded GRPN on Monday for a day trade and locked in about $1,100*.
I actually want to go back and review that trade, and show you why I got in and what I could have done differently.
No matter what the market environment is, there's one factor I believe all traders should pay attention to, especially if they want to trade momentum stocks…
And it can help to identify some of the hottest stocks before they take off.
What is it?
Pattern Recognition
You see, the price action indicated GRPN shares could continue higher… and all I had to do was be a little bit more patient on the trade.
Let me show you what I mean.
On Monday, I sent out a note about GRPN to my subscribers.
U.S. stock futures are green across the board so I'll continue to target momentum. GRPN is my top target so long as it's above Friday's close of $25.77 I think there's a good shot it tries to hit $30 or so.

The stock has been strong after its earnings announcement, and the price action indicated GRPN could run higher.
The stock was above its closing price on Friday, and that meant there were still buyers.
I waited for the stock to pull into a key level before I bought shares.
Here's what I sent out at 10:21 AM ET on Monday…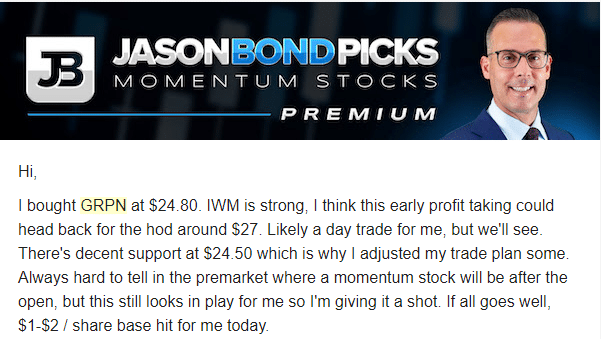 Heading into the close, GRPN made a small move but didn't quite get to my target, but I still took my profits.

To be honest with you, I could've done things a little bit differently. I did mention it would be a day trade for me, and I would potentially hold it.
Now, there was actually a pattern I really liked in GRPN developing.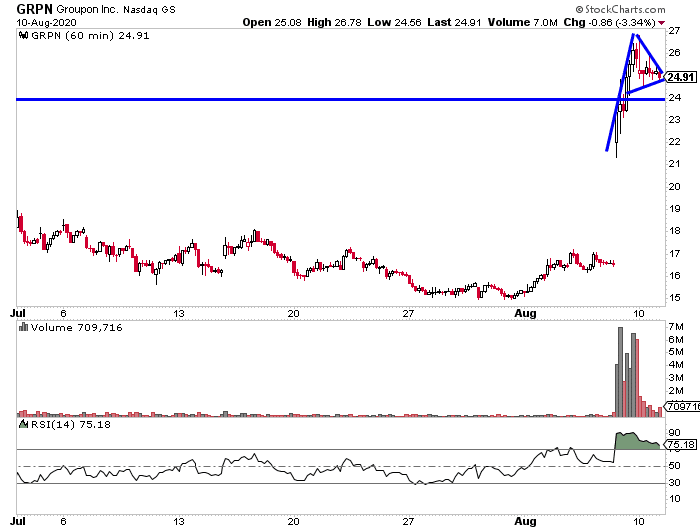 Typically, when I see this pattern… it's an indication the stock could continue higher.
You've probably heard me mention this pattern so many times. Well, again, this is the bull flag / bull pennant pattern.
When a momentum stock explodes higher, there is typically a consolidation phase. It's healthy in terms of price action, in my opinion. So with GRPN, it would've made sense to lock in gains on half of the position and hold onto the rest for the actual potential breakout.
Take a look at what GRPN did…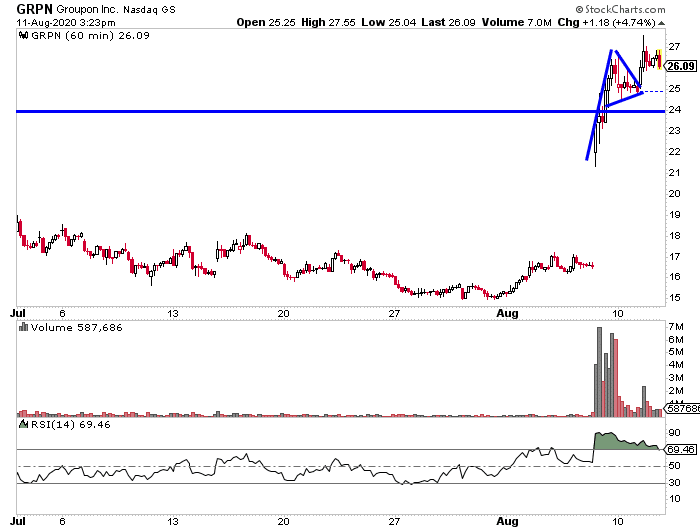 I know you may think this is hindsight, but it was just an error on my part for not holding my position because it did get to where I thought it would go… I was just impatient.
The thing is, if you study and learn these patterns… and develop a trading plan ahead of time, I truly believe it's possible to uncover these moves ahead of time.
I want to teach you the techniques I utilize to uncover momentum stocks BEFORE they move.
Register my upcoming pattern recognition workshopand learn my bread-and-butter setups for nearly any market environment.