The amount of action there has been in the market over the last two months is straight up insane.
As we head into the last day of November, and the last month of 2020…
I think it's important to remain prepared, and the best way I know how is to develop a watchlist.
Right now, small-cap stocks are getting everyone's attention after some of these parabolic moves like BLNK and DPW.
Heck, we even saw it with MJ stocks on Friday. The beauty about all this action is that my bread and butter patterns help me identify which ones are set to take off.
That said, let me show you which small-cap stocks that might see a ton of action this week, which patterns are popping up in them.
There have been "hidden" bull markets within the small-cap space, and if you can identify the trend ahead of time… then it's possible to be in a position to make money.
So the whole renewable energy and EV trend hasn't gone anywhere. With a democratic presidency in the cards, these "green" and socially-responsible stocks can break out.
That brings me to the first stock on the watchlist.
FTEK (FuelTech)
Fuel Tech, Inc. develops and commercializes air pollution control technologies and provides engineering services

The stock popped significantly from $2 to as high as $7.04 in the past week on no significant news. While this stock would make for a risky trade, the chart looks very interesting for a potential day trade, especially if it pulls back into one of the key Fibonacci retracement levels.

Float: 17M, Short Interest: 12% — that lets me know this stock can get parabolic, especially if it breaks above its recent highs.
NETE (Net Element)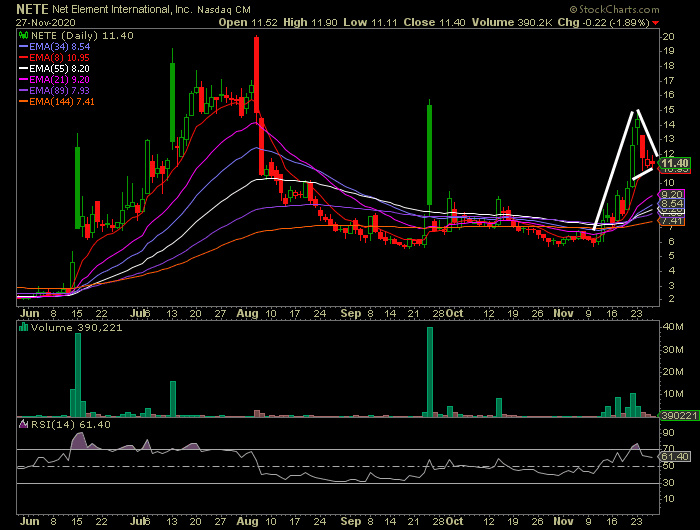 On August 5th Net Element announced a definitive agreement to purchase an EV maker Mullen Technologies. On September 24 Mullen Technologies began receiving per-orders for its All-Wheel Drive SUV. Shares popped on the headline and settled down since.

The stock has been in a steady uptrend in the past 3 weeks. Currently, NETE is forming a bull flag with support around $10.7 – $11 area. This one has potential to go again next week if it closes above $12 on strong volume. Areas of interest: $10, $11, $14.5.

Those levels are based on the bull flag / pennant pattern. If that $10 – $11 range holds and NETE closes above $12 one of these days, then it has range to $14.5.
Float: 4.239M, Short Interest: 16.7% — NETE has an extremely low float, and the supply and demand dynamics can get a little crazy if traders start to rush into the name.
Aurora Cannabis (ACB)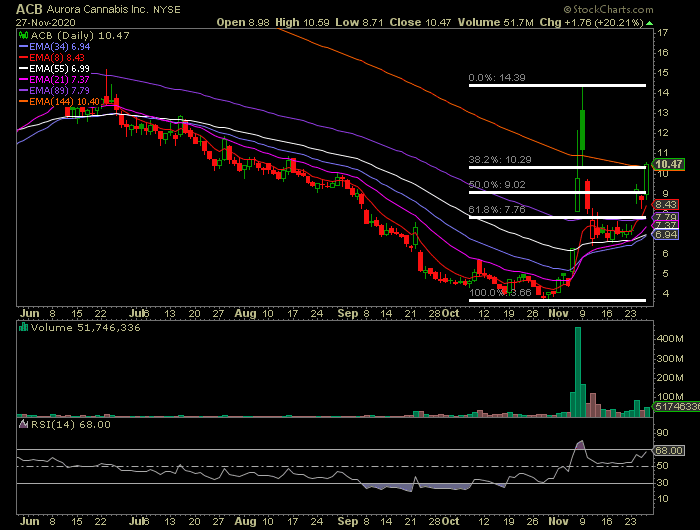 Weed stocks caught a bid on Friday after the U.S House schedule showed a vote will be held on federal marijuana decriminalization next week.

The chart is showing a potential break out of a bull flag. Key levels to watch next week will be $12, $13.5 and $14.5 on the upside and $10 on the downside.

Float: 120M shares, Short Interest: 34% — it's not a low float, but given the extremely high short interest… the bears might not like this news, and they may be forced to cover.
India Globalization Capital(IGC)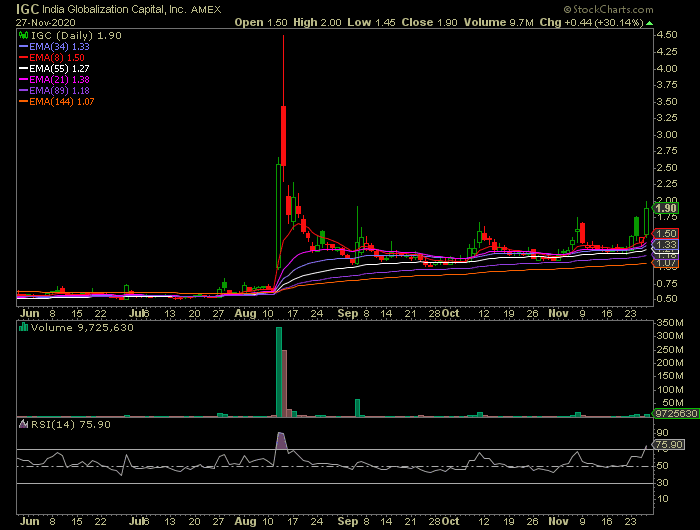 This stock is another weed play that has an interesting chart setup

Shares have been trading in a tight range for over 3 months and are now breaking above pivot level at $2. Next key areas to watch: $2.5 and $4 on the upside and $1.7 on the downside


With the major catalyst on the table, I think this stock can get dragged higher, and given it's still below $2… if it breaks above, it might pop off real quick.
Now, if you want to learn how to utilize chart patterns to your advantage…
Take some time out of your weekend to attend this special training session. I genuinely believe these patterns can help you identify trade ideas this week.