There will be plenty of options trading opportunities this week given it's the start of the last month of 2020.
Thus far, the amount of action we've seen has been insane… and I expect stocks to start having some wild moves.
That's why I want to get a jump on the week and show you three stocks from my master watchlist and why they should be in focus this week.
Now, this week's watchlist is going to be a little different than you might expect because the names I've identified actually aren't tech stocks…
However, they might explode higher this week, and options might provide the best risk-reward available.
Now, there's one major catalyst on the table for cannabis stocks and there are two with options that look interesting.
First up, there's GW Pharma (GWPH).
The stock has just 25.53M shares floating and a short interest of 14.54%. That means this can be the making of an epic squeeze.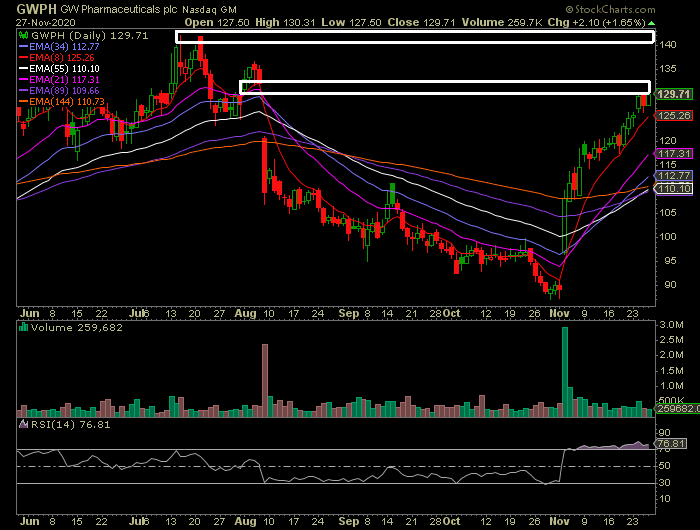 GWPH develops cannabinoid-related treatments, and given the cannabis catalyst on the table this week, I think it can potentially pull this stock higher.
Right now, the options look more attractive. Of course, the simplest way to express a bullish opinion using options are calls.
However, one can also sell a put spread to take advantage of a move higher.
Next up, Tilray Inc. (TLRY).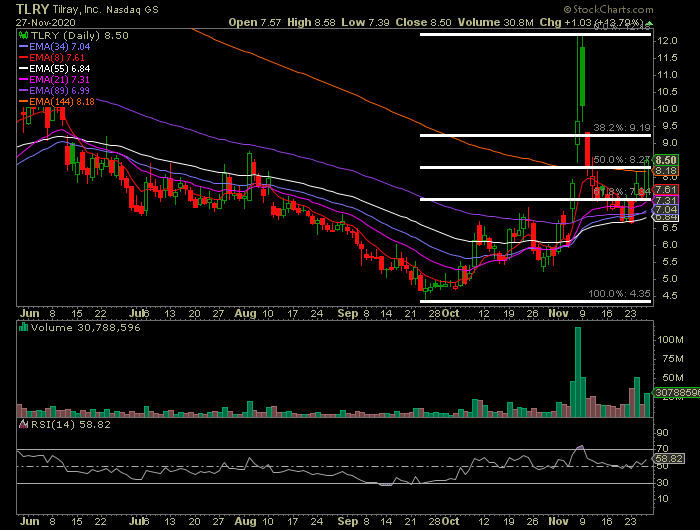 This is one play that with options, and given this pattern, it looks as if TLRY can retest highs. One who wants to limit their risk while maximizing their profit potential can actually use calls to their advantage.
Again, a bull put spread (short put spready) would also help to establish a bullish opinion. Now, TLRY has 89.85M floating and 31.25% of those shares are short. That means this stock can see some epic moves, and the options can move even more.
For either of these plays, if I were to take them and use options, I think it would make sense to look for at-the-money (ATM) calls with about 60-70 delta.
Last, but not least, Dave & Buster's Entertainment Inc. (PLAY) is another setup that looks interesting.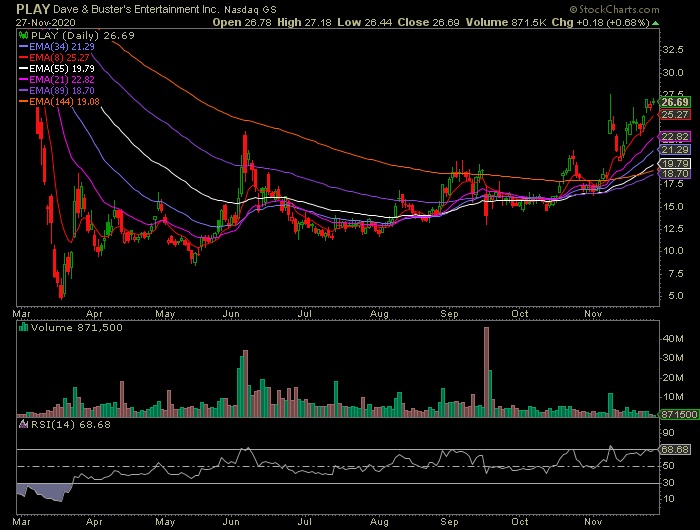 PLAY is at a key resistance level, and if it breaks above $27… it looks as if it can squeeze higher and potentially get back to February levels.
For this stock, the calls would help to limit risk, while maximizing rewards. Additionally, the bull put spread can actually be used to play for a breakout move.
With the bull put spread, there are actually three ways to win. If the stock runs higher, if it stays in range, heck even if it drops a little, the position can generate returns.
I think these stocks will be in play this week, and who knows, maybe one of them will be my number one trade idea one day this week.