Hey guys and gals,
With futures set to open in just a few hours…
Some traders will be focused on trying to analyze all the news headlines and game plan for the week.
Of course, I'll be watching to see what the market does at these levels.
However, as a momentum trader, most of my work has been done…
And I've already found a few stocks I have on my radar come Monday morning.
Today, I want to reveal to you some stocks that are on my radar this week…
As well as my techniques to uncover momentum stocks poised to move.
Before I reveal to you what stocks are on my Monday Movers watchlist for tomorrow…
I want to show you my process to find these stocks on Fridays and develop this watchlist, which gets sent to my subscribers.
Now, my first step is to try to see what's going on with the overall market… and scan and filter for stocks to potentially hold over the weekend.
I believe by doing so on Friday, I put myself in a favorable position to profit come Monday morning (of course, sometimes the move I expect doesn't always happen on Mondays).
For the most part, I'm looking for liquid stocks that have potential catalysts in play. Additionally, I'll look for my bread-and-butter setups.
I believe the best way for you to understand my process is to give you a taste of what went out to Monday Movers subscribers on Friday.
Last week's action was nothing short of spectacular. Pretty much everything went up, I made $4,000 myself going 4 for 4 and there were nearly 100 testimonials from subscribers who reported making 100%+ on DGLY. That's the most subscribers I've ever seen hit 100%+ on the same trade. Gotta love Monday Movers! That's 3-weeks in a row I've made about $4,000 on these picks, so $12,000 on my Monday strategy, and I'm hoping the streak continues next week.
Of particular importance this Friday, I tried to find stocks that I believe won't be hit hard or at all if the market is down Monday. We're seeing a big move in the markets of late and I suspect a pullback is likely coming soon. I don't want to sit the weekend out though, so I scanned for stocks that aren't traded aggressively by institutions.
You see the market has made a massive move… and it may have hit a resistance level…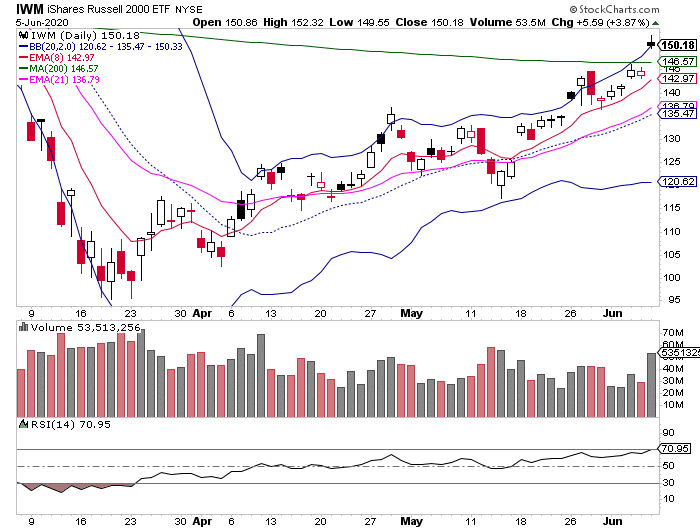 Chart Courtesy of StockCharts
The last thing I want to do is get into a stock and come Monday morning, it's moving against me. So for me personally, I wanted to find some more obscure names that may not have been on many traders' radars (especially the "smart money").
Keep in mind that I already sent this watchlist out to my subscribers on Friday… and if you want to get it in real-time and learn more about my "weekend" strategy, you can get the details here.
Monday Movers Watchlist
Two stocks on my watchlist right now are: Gevo Inc. (GEVO) and Energous Corp (WATT)…
And here's what I sent out as part of my watchlist on Friday…
GEVO is a stock I used to trade a ton and have had a lot of success swinging. The pattern here interests me because the pivot at $1.50 leaves range to $2 if this works. Like a lot of stocks on the weekend list, it's a sleeper so I'm not expecting a lot of excitement but as you can see by the recent pop from $.90 – $1.50 on heavy volume, it does move a lot when good news hits. Stop loss is $1.20, desired entry for me is $1.35 – $1.40.

Source: Finviz
WATT was a winner for me this week, in fact, I just sold it this morning for $1,700 profit. The action today is the first I've seen in a while here and above $2, so that's my stop, I'm interested in getting right back in for a weekend swing. Buy zone for me is $2.07 to $2.10. Recent FCC news was very good best I can tell, I think something else comes from it in the form of good news.

Source: Finviz
With these two setups, I noticed my bread-and-butter patterns and structured plans around these stocks. Now, if you want to get an inside look of what Monday Movers is all about… click here to watch this training session.
WE MAY HOLD SECURITIES DISCUSSED. RagingBull has not been paid directly or indirectly by the issuer of any security mentioned in the Services. However, Ragingbull.com, LLC, its owners, and its employees may purchase, sell, or hold long or short positions in securities of the companies mentioned in this communication.
DISCLAIMER: To more fully understand any Ragingbull.com, LLC ("RagingBull") subscription, website, application or other service ("Services"), please review our full disclaimer located at https://ragingbull.com/disclaimer.