Stocks have had an amazing rally… but after this remarkable run…
I've got to wonder if there's another leg up, or if the market just reverses from here.
Who really knows right now.
My journey as a momentum trader has taught me a thing or two about wacky market environments…
And today, I want to show you the mindset of a momentum trader and why it's so important for traders to keep their psyche in check…
As well as some tips and tricks that I believe can be helpful.
With so much moving in the market, I think it's great for momentum traders…
If you don't already know, the more volatility, the better it can be for traders who like fast-moving stocks.
However, volatility is a double-edged sword when it comes to trading… and it can be a challenge to uncover the setups that best suit your personality.
For me personally, my goal is to lockdown base hits in a few days (depending on the market environment)…
So far, it's been working for me…
The thing is, it's a lot different to be a momentum trader than an investor.
You see, as a momentum trader… I'm not necessarily looking at fundamentals and interested in what the company will do a few years from now.
My edge lies in identifying chart patterns and potential catalysts.
Now, every trader's edge will differ, in my opinion… and in order to develop the momentum trader's mindset, I believe it's imperative to have a process in place.
When it comes to keeping my psyche in check, I focus on my edge and stick to my process.
The Importance Of Identifying Your Edge And A Process
If you don't have an edge in the market, I think that's pure gambling… and if you don't have a process, I would also consider that gambling.
In order for traders to learn how to develop a process, I think it's useful to learn by example…
So I want to reveal to you my process for identifying momentums stocks to potentially trade.
My process starts with looking at the momentum hunter scanner…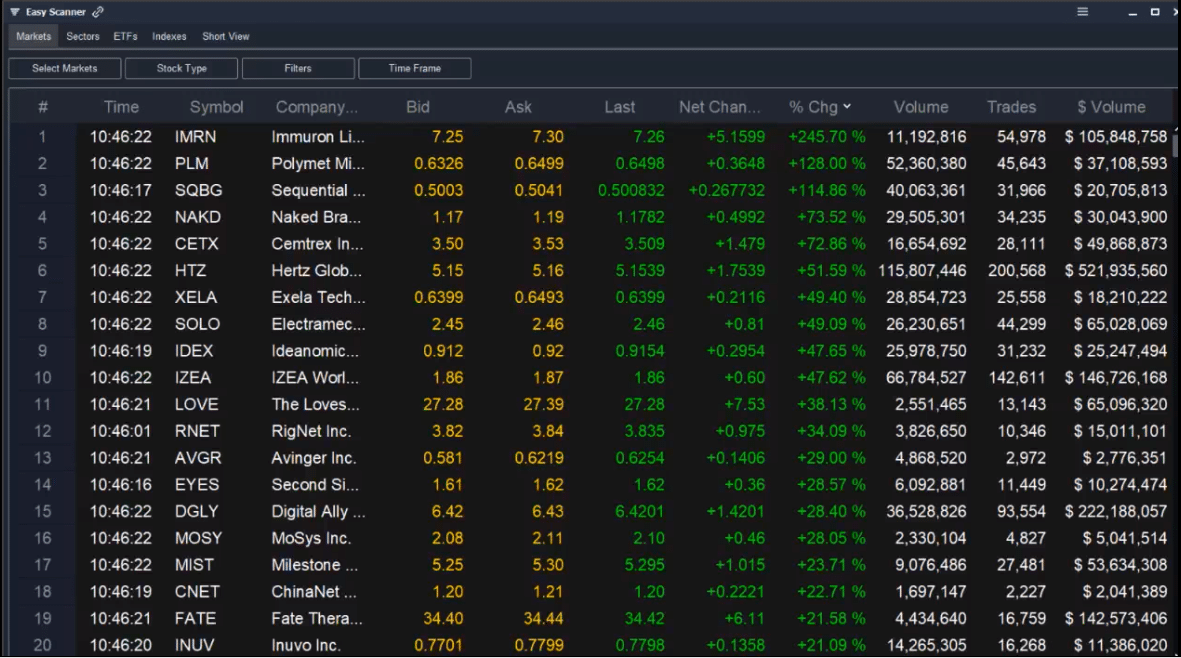 Source: Scanz Technologies
I filter for liquid momentum stocks that are moving… and I look at the top names that are moving.
Now, my next step is to look at the charts.
For example, Naked Brands (NAKD) is one stock that showed up on the filter (number for on the list above).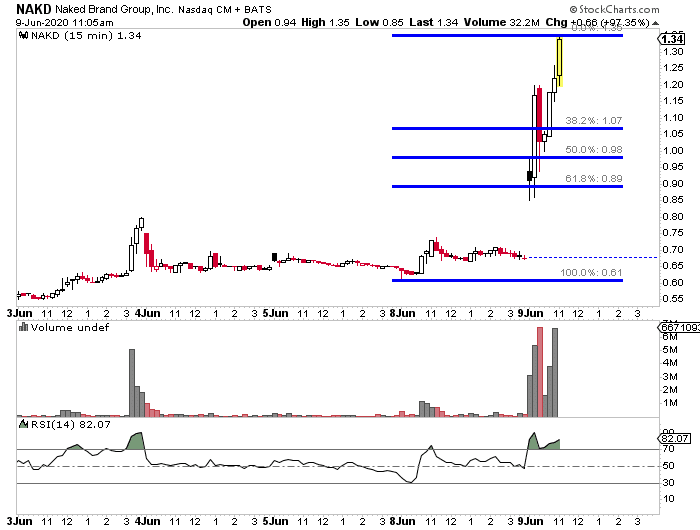 Source: StockCharts
I would look at the chart, and of course this stock had a massive move…
Some momentum traders would like to chase… but in this scenario, I may actually want to use my rest and retest pattern. In other words, I would want to look for a pullback to a key level (I find the Fibonacci retracement levels can be helpful).
By sticking to my process and edge, I believe I put myself in a position to profit.
I know what you're probably thinking…
Jason, how do I actually develop a process and edge?
First and foremost, I think it's important to keep a trading journal.
That means every trade should be recorded…
Some important factors to include are:
Ticker traded, along with the date and time of the trade.

Profit or loss on the trade

Number of shares traded, purchase price, exit price, and stop-loss area.

Your thesis on the trade

What you could've done differently
The thing is, it's not just about journaling… I believe it's best to actually review the trades and try to find a pattern.
I believe once you have trades under your belt (don't be afraid to paper trade while you're learning)… you might notice what's working for you and what's not.
The key is to identify the losing strategies… and cut them.
Thereafter, you can figure out what works for you and identify your edge…
And develop a process.
Now, if you're interested in learning how to develop a strategy for momentum trading, then check out my training workshop here… and grab a complimentary copy of my latest eBook, Momentum Hunter.