We've seen a lot of high-dollar stocks take off recently and if you ever thought about trading these expensive names…
Listen up. 
I want to show you an alternative that allows me to take advantage of these stocks without breaking the bank.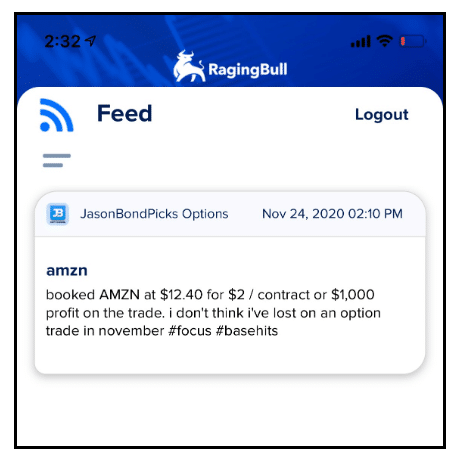 If you don't know what I'm referring to — it's options, and I want to show you how I trade them with a real-money case study.*
Don't worry, I'm not going to be talking about anything complex here.
I just want to show you how I pair chart patterns and utilize options to express my opinion…
And why I think it can help you become a better trader.
On Friday at 11:33 AM ET, here's what I sent out to subscribers.
AMZN bull puts. sold 3130 / 3100 vertical put spread for 14.40. risking 7,800 to try and make 7200 max, goal is 50% of the 7200
I adjusted my order some because i couldn't fill the advance notice range i sent out earlier via the RagingBull APP but same trade really.

Here's a look at the daily chart in AMZN (as of Nov. 20, the day I got into the trade).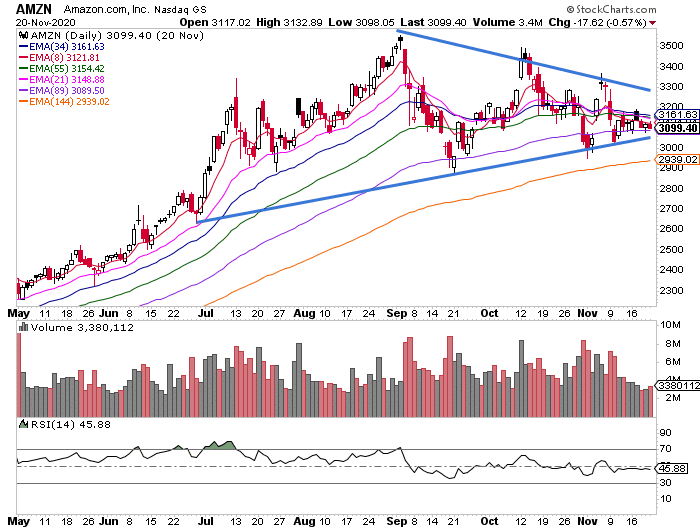 AMZN was right near the 89-day exponential moving average (EMA), and it looked as if that would hold as support.
Now, I was actually bullish on AMZN, so instead of purchasing shares at such a hefty price tag…
I decided to sell the $3130 / $3100 put spread expiring on Nov. 27.
So this meanst if AMZN stays above $3130 on expiration, I would collect all the premium. The best part is I didn't really need AMZN to explode higher.
I just needed the stock to get above $3130 and stay there. Of course, with this trade, I don't have to hold onto it, and I can get out whenever I want really.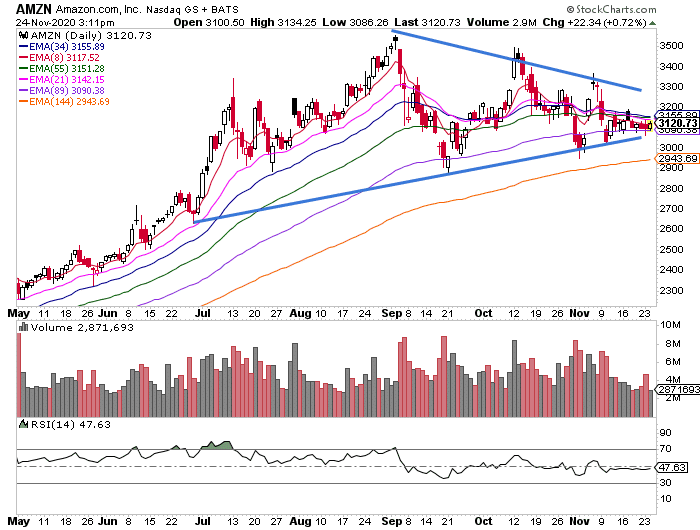 Now, on Tuesday at 9:02 AM ET, here's what I sent out.
I intend to manage this position today meaning if it's not above my $3130 / $3100 spread I'll take a small loss. What I don't want to do is ride this, between strikes (currently $3110) into Wednesday, get caught in a gap down on the QQQ and be at max loss here 'hoping' the market reverses. Basically I need some breathing room today or I'm playing defense. See how it's just starting to get under the trendline I'd be referencing? Needs to get back above that today for me to consider holding.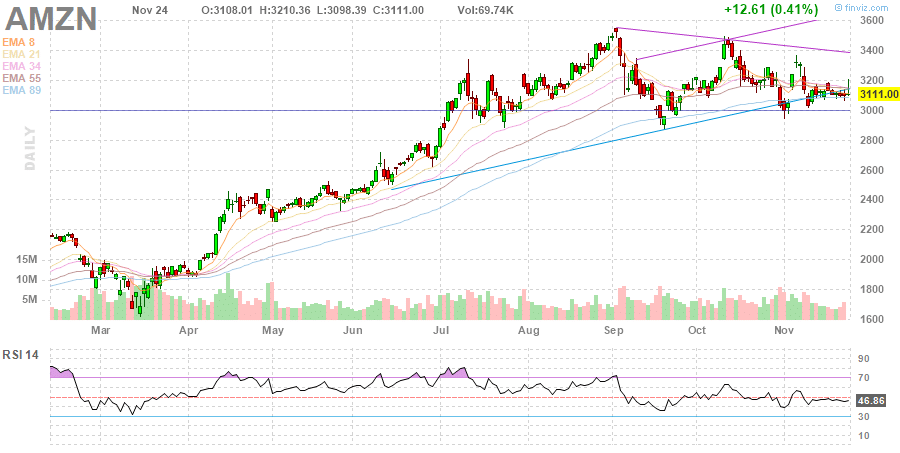 When it comes to these plays, it's important to manage risk and that's what I did here. When I saw I was actually up money on the trade in the afternoon, I locked in my gains. I believe it was a prudent action to take.
You see, we're heading into a holiday, and since the market is extended… I wouldn't be surprised if there's a pullback in some of these names.
Notice how I just spotted what I believe to be a simple chart setup. I found an area I believe AMZN can stay above and used options to execute my stance on the stock.
Right now, I've found pattern recognition to be most beneficial to my trading.
If you want to learn my three favorite chart patterns and how I use them to attack the market… then you'll want to attend this training session here. 
You'll discover how chart patterns can make you a better trader and why it's important to focus on price action.