It's official.

Robintrack will no longer be updating its data of the hottest stocks on Robinhood. My best guess is a lot of traders will struggle to find trade ideas because they can't FOMO chase anymore.
To be honest with you, I think that's a good thing because other traders won't buy the top only to watch it go against them.
I believe there are easier ways to generate trade ideas.
For me personally, I've been able to identify key areas of demand and supply — so I can time my trades to near perfection.

Thus far in August, I'm pacing for my best month and I've got the hot hand*. What's helped me the most is…
Pattern Recognition
Imagine just looking at charts and spotting a few setups to generate trade ideas. I believe that's a heck of a lot easier than trying to chase the Robinhood stocks or analyze the news.
I mean I found 3 stocks I believe can catch a pop by looking at the charts.
Let me show you why I want to keep them on my radar this week, and teach you how you can find these patterns on your own.
I like to go into Monday mornings with an idea of at least a few stocks I might want to trade. I uncover these potential plays by looking for my patterns. Let's get right into it.
Ageagle Aerial Systems Inc (UAVS)
You've probably seen this pattern before…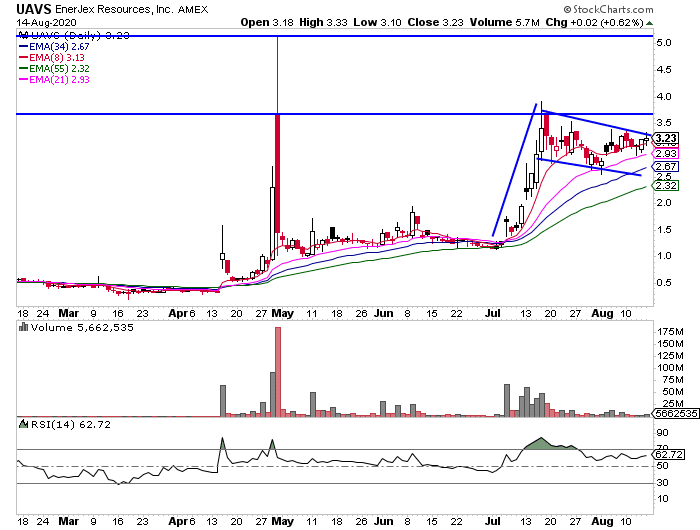 It's the bull flag pattern, and what I'm looking for here is a large move higher, followed by a period of consolidation. Typically, what ends of happening is the stock breaks out and continues higher.
I want to buy within the consolidation area, especially since there are key moving averages.
UAVS bounced right off the 21-day exponential moving average (EMA), and that's a signal there's demand at that level. It's the pink line in the chart above, if you couldn't find it.
I think that can be a great area for a stop-loss, and I believe the stock has room all the way to recent highs.
You see, the offering is out and UAVS is providing a corporate update on Tuesday. I definitely want to keep a close eye on this one tomorrow.
Riot Blockchain Inc (RIOT)
This is one stock I mentioned recently and how it could move higher.
With earnings out, and the stock bouncing right off a key Fibonacci retracement level, I think it can break out soon… especially if we see a pop in Bitcoin.
Typically, when I see a stock bounce off a key Fibonacci retracement level, it's a signal it can run higher. I mean after all, this stock has made a massive move the last few weeks, and I think this was a healthy pullback.
Precipio Inc. (PRPO)
Last, but not least PRPO is on watch.

There's a key support level at the 78.6% retracement level and it's a COVID-19 stock, so I definitely want to keep this on my radar.
This is a low-float stock as well, with only 14.41M shares available for us to trade. That means if demand picks up for this stock, it can see some wild moves.
It's so easy for me to uncover trade ideas because I'm able to spot patterns fast. That's how I'm able to trade on a part-time schedule.
If you truly want to learn more about my patterns, and more importantly, how you can spot them on your own… then you'll want to check out my chart patterns workshop.
Normally, this would cost $300, but it's yours absolutely free.
Take advantage of this exclusive offer, and register for the training now.
*Results presented are not typical and may vary from person to person. Please see our full disclaimer here: ragingbull.com/disclaimer