Well, bitcoin may be on people's radars again, after the wild moves it's experienced.
Traders are chasing alpha, and I wouldn't be surprised if some will look to the cryptocurrency market to make money.
I mean this could be a start to a run similar to the one we saw just a few years ago.
Who knows.
Of course, cryptocurrencies can be pretty risk… but I know how these momentum traders think, after all, I've been doing it for about a decade now.
If these cryptocurrencies do start to take off, I believe we'll start to see a slew of sympathy plays.
No, I'm not talking about the dumb alternative coins that don't have use cases…
I'm talking about stocks with exposure to cryptocurrencies.
There are two bitcoin-related stocks right now I want to keep on my radar right now.
Why?
My patterns flashed a potential buy signal, and typically, when I see these setups develop, I can find quick 10-20% winners.
The two stocks are Marathon Patent Group (MARA) and Riot Blockchain (RIOT). Listen, I'm not going to randomly buy these stocks.
I'm going to wait for key levels and for my patterns to develop in these names.
Right now MARA is showing signs of one of my best setups — the rest and retest.

On the daily chart, MARA pulled right into a key Fibonacci retracement level. I want to focus on the 50% and 61.8% retracement levels because I've found those areas work really well for identifying entry points.

I want to keep an eye around the $2.75 – $3.35 area for potential areas. If the demand actually picks up, I really wouldn't be surprised if MARA gets to its recent high at $5. Above that, and I think the move can really get sporty.
Why?
This stock is considered a low-float. It's only got 18.01M shares floating and an 8.09% short interest. That's an indication there's not a lot of supply out there… and if we do see bitcoin skyrocket, that would be a catalyst that can send MARA higher.
Next up, there's Riot Blockchain (RIOT).
The company just released earnings and pulled back. I think any "bad news" is priced in right now, and the chart pattern is almost "picture-perfect".
I mean take a look right here.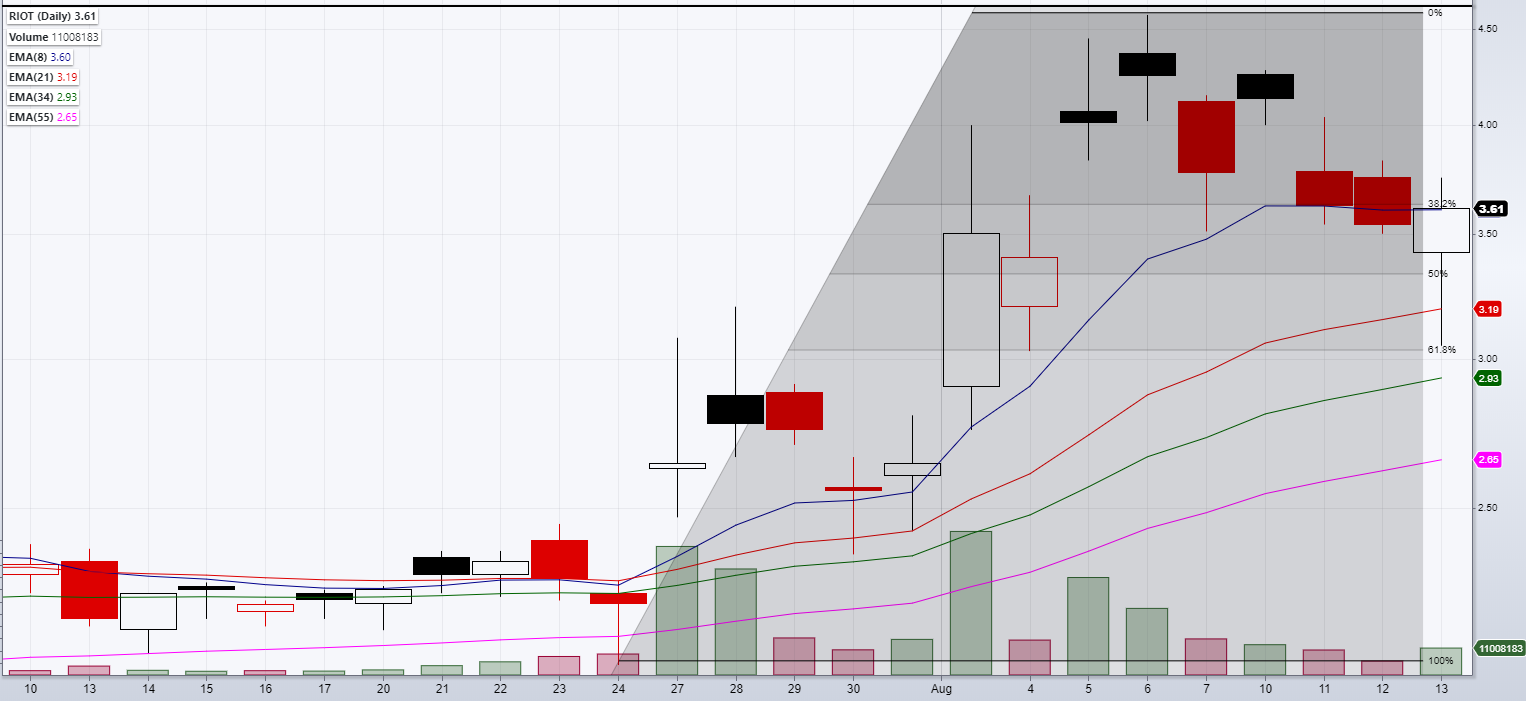 RIOT pulled right into the 61.8% retracement level and started to make a move. I'm going to keep an eye on the 50% and 61.8% retracement levels as potential entry spots.
This is one stock I actually mentioned not too long ago, before it made that large move above $4.
You see, there are only 32.88M shares floating, and nearly 20% of those shares are short. Again, if the demand picks up, RIOT can see some pretty wild moves.
I'm going to keep an eye on these two names because these patterns typically play out and help me identify momentum stocks BEFORE they move.
If you want to make trading easier and just look at chart patterns to identify hot trade ideas, then make sure to attend this exclusive training session.