I always love to get a jump on the week and uncover stocks to potentially trade.
If I have an idea of a few names to watch on Mondays, I won't have to scramble in the mornings. You see, with my techniques, it's easy for me to identify momentum stocks poised to move.
Imagine, you could work ahead of time and have some trade ideas to watch for the entire week.
Well, that's what I try to teach traders to do. Learn the techniques to uncover swing trade ideas by looking at chart patterns.
I want to draw back the curtains and reveal to you my process to identify these names, as well as provide you with three stocks I want to keep on my radar this week.
Check out this screener of the scanner I use provided by Scanz Technologies.
I filter for specific stocks I want to look for. Basically, I'm looking for stocks with at least $2M in trading volume that are gapping up on a specific day.
I want to sort by percentage gainers because I want to look for in-play stocks to trade.
Thereafter, I just go down the list and try to see if I can spot any of my patterns.
Gamestop Corp. (GME)
On the hourly chart, there's a bull flag / bull pennant pattern forming in GME.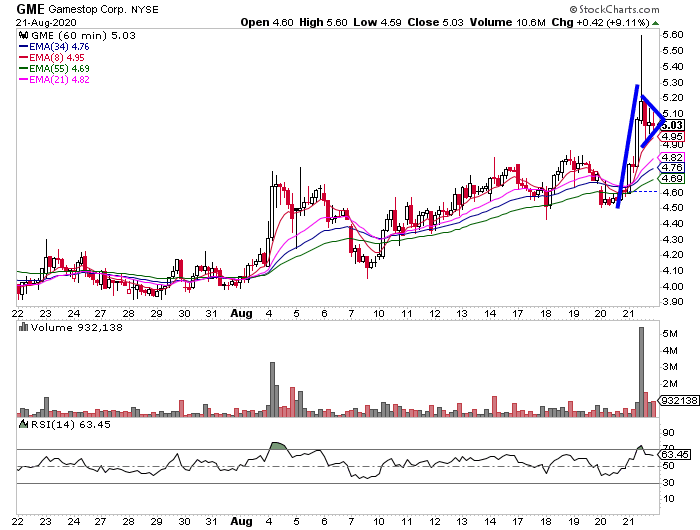 This pattern typically signals a stock can break out and with the stock trading right around $5, I think there can be some good support slightly below it.
I'm going to keep this on the radar because if it breaks out from Friday's high, it can get squeezy.
Currently, GME has 54.729M shares floating, and 53.74M shares are short. In other words, more than 98% of the stock is sold short. If there's any positive news or if the demand picks up, I wouldn't be surprised if GME breaks above $6.
Mobileiron Inc (MOBL)
MOBL is another stock that made a move that I want to keep an eye on this week. The stock has some support areas around $6 – $6.25, and I want to keep this on watch.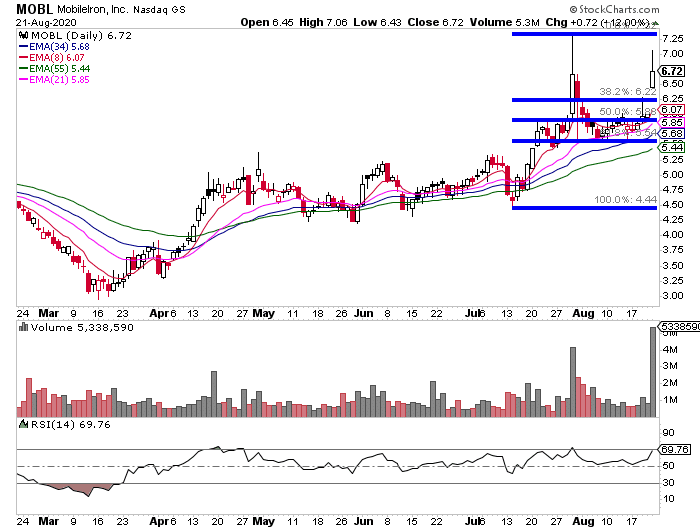 I may look to get in on pullbacks or play the potential break out of recent highs.
Last, but not least, AgEagle Aerial Systems Inc. (UAVS) is on my radar.
AgEagle Aerial Systems Inc. (UAVS)
UAVS has been on my radar for quite some time now. The stock pulled back to a key Fibonacci retracement level around $2.25.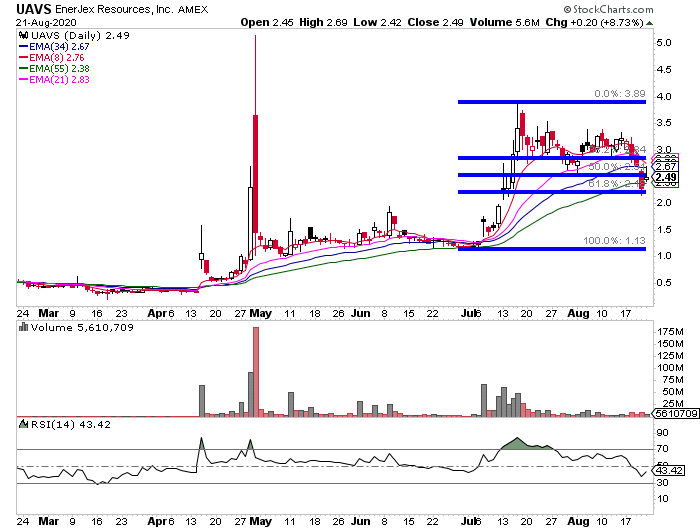 Typically, I've noticed there's demand around these retracement levels, and if there are buyers willing to step in, I wouldn't be surprised if UAVS reaches recent highs.
Listen, I believe it's easier to look at chart patterns and come up with trade ideas, when compared to other strategies I've seen.
I want to show you how I've created a strategy that allows me to trade on a part-time schedule… while putting myself in a position to uncover momentum stocks poised to move.